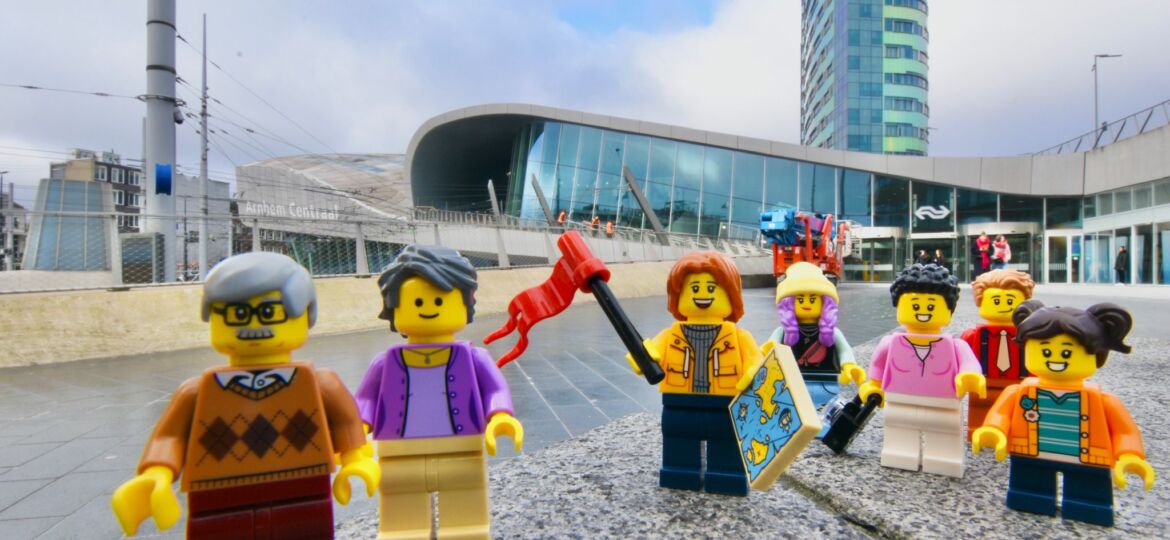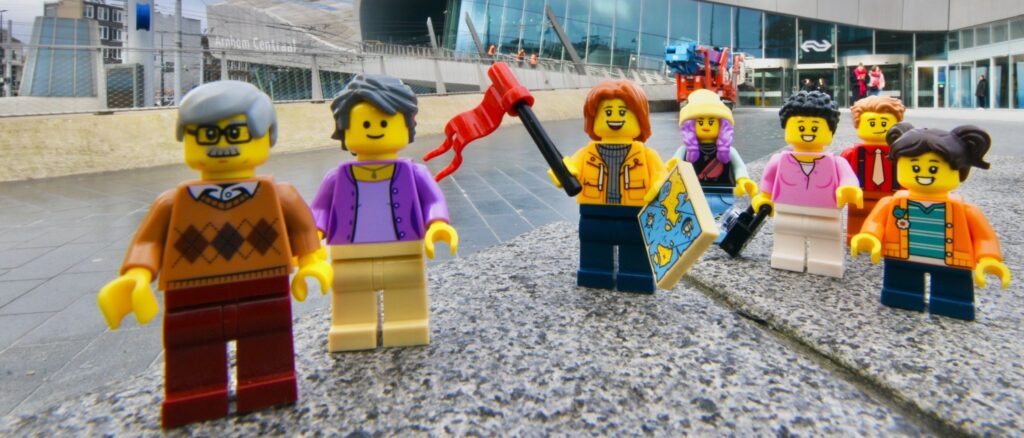 See Arnhem through the eyes of Bricky
You've probably seen David Harpe's photos on social media. Together with Bricky – a LEGO doll – he explores the streets of Arnhem and you see Arnhem through the eyes of Bricky. Every day David posts a photo of Bricky or his friends on the Bricks of Arnhem Facebook and Instagram page. These are photos of tourist spots in Arnhem, but also of events or happenings. For example, you can already see Bricky at Burgers' Zoo, during a New Year's dive, he hangs out with the fire brigade and he is present in the spring when the tap is opened for the fountains in Arnhem.
Creative collab between Bricks of Arnhem and ArnhemLife
We can't believe out luck! We were also allowed to hit the town David to capture different guided city walks with the use of different LEGO dolls. How cool is that!! Besides the fact that we already use our own photos to promote our city walks, we can now also do that by showing these cool photos. A super creative collab between Bricks of Arnhem and ArnhemLife. Our 'chief guide' Petra often does tourst with a group and can be recognized by her yellow raincoat. The LEGO doll in the photos is therefore also wearing a yellow 'jacket', a real custom-made doll.
What guided city walks in Arnhem do you mean?
Maybe you think 'huh, which city walks in Arnhem are you referring to?' Well, I'll tell you! We now have more than 10 different city walks in our range, but there are a few tours that our customers book the most:
Battle of Arnhem tours
This is by far our most popular tour. Our local ArnhemLife guides who will accompany you on a Battlefield Tour are all experts in the 'battle of Arnhem'. We offer this tour in various forms, such as a 2.5-hour walk, as a bicycle tour, by car, van and sometimes even by coach – then of course depends on the group size. Especially British and Americans book this tour. During the Battle of Arnhem, many British soldiers fought in this area and we regularly receive requests for a tour from people whose family members fought here. Then we do our best to dig up some information about this soldier in order to really make a tailor-made tour.
Highlights of Arnhem city walk
This guided Highlights of Arnhem city walk also has a permanent spot on our website. In 2 hours you can take a walk through the city center of Arnhem. The guide will tell you more about the Eusebius Church, the Devil's House, the Sabelspoort and the John Frost Bridge and along the way she/he will also tell you all kinds of fun facts and trivia about the city. Even people who have lived in Arnhem for 40 years are learning new things!
Street Art City Walk
The tour that started it all in 2016! During the international Sonsbeek Exhibition in 2016, various artists made murals in the city. Some have disappeared and other works have taken their place. See works by the Strakke Hand, Sivanski, Naamloozzz, Dopie and many more along the way! The guide will also tell you about special art in the outdoor area too.
Our Waling Dinner package is also popular as an outing as a business activity, for example, and there is a lot of interest in our 'Crime Tour'. Do you want to know which city walks in Arnhem you can book with us? Then take a look here.
You can find many more great tours, tips and blogs on our website. Feel free to take a look and if you are interested in an Arnhem tour, please feel free to contact us at info@arnhemlife.nl. Thank you in advance!