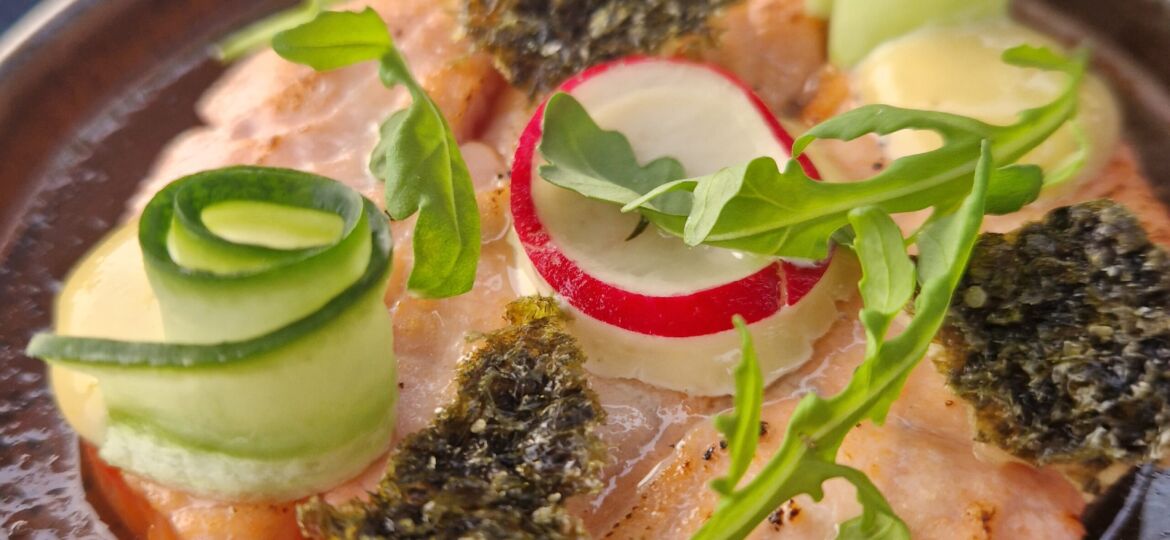 A culinary treat at Sky restaurant on the Rijnkade in Arnhem
Do you love dining out and are you not yet familiar with Sky restaurant? Then do read on quickly. Disclaimer: before you know it you will make a reservation and have a new favorite restaurant in Arnhem. For a culinary treat, go to Sky on the Rijnkade in Arnhem!
On a lovely late summer evening we report to the entrance of the restaurant. "Where would you like to sit?" After some hesitation, we did not choose to sit inside or at the terrace under the awning, but just across the street, the terrace with a view over the Lower Rhine. "While we still can, let's enjoy the outdoors," we say to each other, while nodding.
3, 4 OR 5 COURSE SURPRISE MENU
Soon are sipping on a delicious wine that's in front of us as we study the menu. Yum, there are so many tasty things on there! Making a chioce is always difficult, but… they have found a solution to this 'problem' at Sky: you can also opt for a 3, 4 or 5 course surprise menu. We chose the middle option and were looking forward to the pleasant evening.
Nice casual atmosphere at Sky restaurant
What strikes us is that there is a nice relaxed atmosphere at Sky. The restaurant exudes luxury and this is also reflected on the menu. The staff is very friendly and knows what they are talking about. You really have a night out, this is not just a restaurant for a quick bite, but one where you can spend a whole evening. Around us we also see that the other guests are having a good time. Restaurant Sky is a lot more chic than the restaurants in the area, and the eye for detail is certainly worth mentioning. The staff really sees you, there is no need to ask if you can order another drink, they see that themselves. Just like when you need a fresh napkin or you have finished your plate and it is time for the next course. Something that is no longer self-evident in the catering industry.
We start with a tasty amuse: a 'snack' that, in addition to being very tasty, also stimulates the digestion of the taste buds. This small fish dish leaves you wanting more. A plateau with 6 oysters soon follows. Oh, if there's one thing that can make me happy, it's oysters. I see that the slight hint to the waiter when ordering our surprise menu went through well! (The hint was: I don't like peppers, but I DEFINITELY like oysters.. wink, wink.. )
Cheers to the good life
let's appreciate what a good life we ​​have, we say to each other. We toast the good life again and chat a little more about the week and what keeps us busy. Watching people walking on the also keeps us busy and a good activity while the chef is busy in the kitchen with our next course.
Small bikes to enjoy for as long as possible
The first real course of our 4-course menu is the salmon gravad lax with horseradish, candied onion, mustard-dill vinaigrette and cucumber. We take small bites because we want to enjoy this beautiful and tasty dish for as long as possible. The different flavors go together so well. This dish is already a favorite. On to the next dish, would it be just as delicious?
We see the waiter walking out of the restaurant with two plates, our 2nd course perhaps? How curious we are! What would it be? It is a piece of pork belly with pak choi and a delicious mustard sauce. To die for! Although the food is finger-licking good, of course I used my cutlery as this is a fancy restaurant and I would like to come back here again.
Black angus ribeye with a delicious jus de veau
The 3rd dish is also a hit: we were really lucky with this 4-course menu. The plate is filled with a piece of black angus ribeye with a delicious jus de veau, a crispy rosti and fresh mushrooms. This dish already put us in the autumn mood a bit, also because we were still sitting outside, it was starting to get dark and it was getting a bit chillier. My table lady and I made an appointment to return to Sky soon to try the game menu.
We still have a little room in our bellies for dessert. This is also a feast for the eyes and a delicious ending to our 4-course menu. How pampered we have been! While writing this, I occasionally look at the photos I took of the dishes and my mouth is already watering.
Thank you, Restaurant Sky! We had a fantastic evening with you. We will be back soon and hope to explore your new restaurant Cielo (in the building next to Sky) soon.
What else can you do at Sky?
-Celebrating your wedding
-Or throw your gender reveal party
-Celebrate your company party, birthday or anniversary
ArnhemLife is not just a blog about Arnhem, you can also book various city tours and company outings in Arnhem with us! We specialize in private Battle of Arnhem tours and tailor the route to your wishes. View our offer and contact us without obligation at info@arnhemlife.nl for a quote.