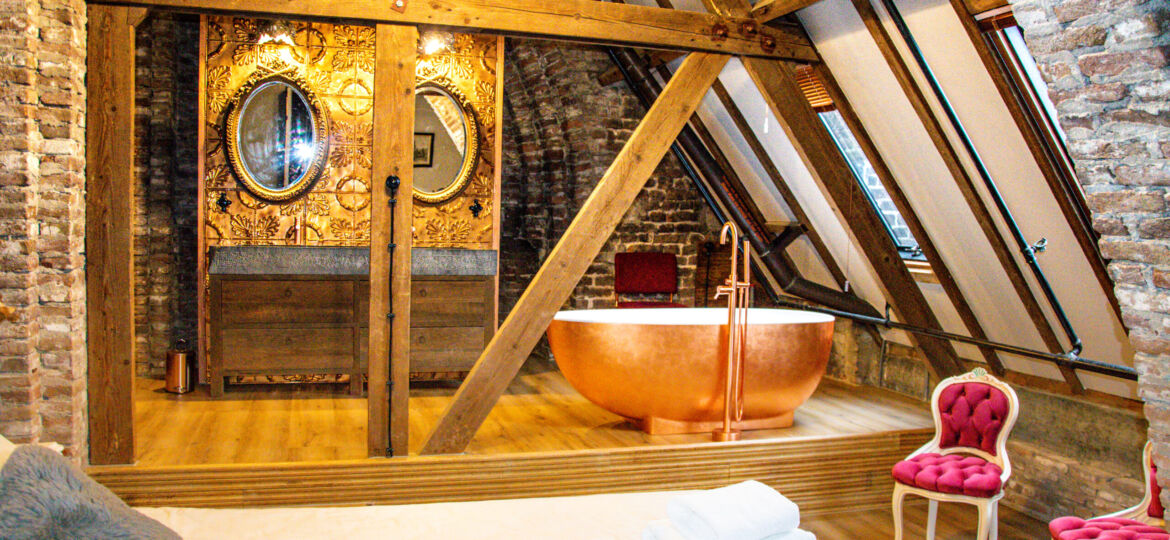 Walburgis Residences, a unique place to sleep in Arnhem
Are you visiting Arnhem soon and are you looking for a unique place to sleep? Then the Walburgis Residences is where you need to be. You can read further on how you can get a discount on your overnight stay.
The old Walburgis Church is located in the center of Arnhem. The oldest church in Arnhem, in use since 1375, has not been used as a church since 2013. This function has been removed, but something beautiful has come back.
The two church towers have been transformed into a hotel with six unique rooms. Transformed is an appropriate word here: it seems as if magic has been used to create this hotel, what a transformation.  #adv
Which theme room in the Walburgis Residences will you choose?
These six rooms are all decorated as a theme room. The subject is related to Arnhem or its surroundings. You can sleep in the following rooms:
-Helene Kröller Müller suite (max 2 persons)
-Rietveld Kröller Müller suite (max 2 persons)
-Lodewijk Napoleon Grand suite (max 4 persons)
-Roman Fort Grand Suite (max 4 persons)
-The Burgers' Zoo Penthouse (max 4 people)
-Battle of Arnhem Penthouse (max 4 persons)
If you sleep in a penthouse, you also have exclusive access to the top of one of the towers. There is a picnic table. This location is very suitable for eating or having a drink. With the view over the city and pleasant company, it is a pleasant stay. All rooms are decorated with a luxurious baroque look and fully equipped, for example a fully equipped kitchen with appliances. Don't feel like going out and want to enjoy your stay in the room to the fullest? Then you can also prepare a meal yourself.
Now also available: luxury meeting room 'De Schatkamer' – Walburgis Residenties, a unique place to sleep in Arnhem
There was still a room left in the tower of the Walburigskerk, where a luxurious meeting room has been realized that also serves as a room for 'private dining', for example. Through the large windows you look out on the nave of the church where the WW2 museum 'Out of Ammo' currently has its collection on display. A beautiful historic location where you will be inspired by your surroundings.
History of the Walburgiskerk
There are few old buildings in Arnhem and that is mainly due to the Battle of Arnhem in September 1944. This church did not survive the Battle of Arnhem unscathed either. The Walburgis Church was severely damaged by a fierce fire and an airplane that flew through the right tower. Fortunately, more than 60% of the church remained standing and could be repaired and rebuilt.
If you look closely at the two towers you will also see a difference. One tower has two arches and the other tower has three. That hasn't always been the case. The bells hang in the tower with 3 arches. Before 1851 they made 3 ports from 2 ports to ensure that the sound of the bells would go further. After that the tower collapsed and when they rebuilt it they only replaced 2 arches. Maybe that looked nicer or did they think three bows were too much trouble? During the reconstruction after the Battle of Arnhem, the right tower was rebuilt with three arches. You can be busy with it!
DISCOUNT DISCOUNT DISCOUNT – Walburgis Residences, a unique place to sleep in Arnhem
Would you also like to spend a night or two in one of the luxurious hotel rooms of the Walburgis Residences? You can, and with a discount too, 25% to be exact!
The discount is valid between Monday and Thursday from January 9, 2023 to April 27, 2023 (so on Mondays, Tuesdays, Wednesdays and Thursdays).
Do you want to take advantage of this? Send an email to info@walburgis-residenties.nl to inquire about availability. Don't forget to put 'booking with a 25% ArnhemLife discount' in your email, otherwise you won't get a discount.
Wishing you a lot of sleeping pleasure!
Read more about the temporary museum that can be found in the Walburgis Church 'Out of Ammo' here.