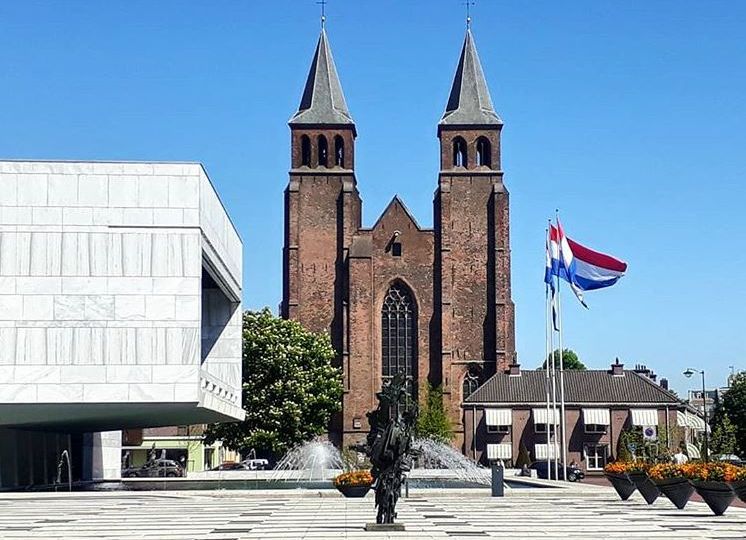 Special overnight stay in Arnhem
Are you visiting this city soon and are you looking for a special overnight stay in Arnhem? Didn't sleep in a standard drowsy hotel for once? Then read on quickly.
Wij hebben namelijk de 5 tofste en meest bijzondere slaapplekken in Arnhem voor je op een rijtje gezet. Welke zou jij kiezen?

Walburgis Residences: a special overnight stay in Arnhem
It is almost impossible to make a church just a church these days. Churches are regularly put up for sale and so was the St. Walburgis Church in Arnhem, where the Walburgis Residences are located. A private person bought the church for almost 1 million euros, and that is how the plan to turn the oldest church in Arnhem into a special place to sleep was started.
The Walburgis Residences opened its doors to the public in mid-2021. You can sleep in 6 luxurious rooms with themes such as 'Roman Fort', 'Burgers' Zoo', 'Kröller Müller' and the 'Battle of Arnhem'. The rooms, all of which have the 'sustainable' sign, have space for 2 to 4 people. Each room has a fully equipped kitchen with hob, oven, fridge and dishwasher.
The rooms can be found in the two towers of the St. Walburgiskerk. If you book a grande suite, you can even use the space at the top of the tower with a beautiful view over Arnhem. There is a picnic table here where you can have a nice long drink in the summer. A truly unique overnight stay in Arnhem!
You will soon be able to find a new museum in the church itself. This museum is about WW2 and has as theme the occupation of Arnhem.
In Arnhem you can find quite a lot of museums! Do you want to know which one? Then click on this link.
*Photos by ArnhemLife
The Drijfpaleis: a special overnight stay in Arnhem
Have you always wanted to sleep on a houseboat? This is your chance!
We at ArnhemLife organize city walks and company outings. We regularly take groups on the road through Arnhem and when we pass Ruud's Drijfpaleis (Floating Palace) we always stop to draw attention to this unique place to sleep.
This romantic houseboat in fantasy Italian style, built by Ruud, is hidden behind a large mosaic terrace garden at the end of the city quay. There is a holiday feeling here all year round! Experience the tranquility of the flowing water, the bread begging gulls and ducks, fishing grebes and sometimes a kingfisher. Freight and cruise ships passing by create a gentle swell.
If you have a cat allergy, you're out of luck. Cats Hendrik and Frankie are also present at this floating palace. This is the sleeping place with a 4.8 review score, the highest/best in this list.
This great B&B closes in winter, but you can place a booking again from April.
*Photos by  Drijfpaleis en Astrid Steurs (instagram)
Hotel Modez: a special overnight stay in Arnhem
This unique Hotel Modez is located about a 10-minute walk from the center of Arnhem and also on the edge of the Arnhem Fashion Quarter. Every room is different and sometimes even completely hysterical! Studio Piet Paris (fashion illustrator) came up with the great hotel concept, designed the logo and is responsible for the art direction.
Paris has asked a number of Dutch fashion designers to furnish the rooms of the hotel, many of whom studied at the Arnhem art academy or have a studio in the city. The name Modez derives from the composition Mode, Design and ArtEZ, formerly the Arnhem art academy. More than thirty Dutch fashion designers linked their names to a room and came up with surprising concepts that characterize their style.
So you can sleep in a room designed by Bas Koster, Spijkers & Spijkers or Piet Paris, for example. A must for every 'fashionista' who visits Arnhem.
And while you're there… downstairs is cafe/restaurant Caspar. That is also highly recommended for a snack and a drink. Outside you can sit on the spacious terrace under the trees. In the spring and summer we prefer to do this every week. Fortunately, it's also cozy inside, so that's where we can be found in the fall and winter ;).
*Photos by Hotel Modez (instagram)
Discover Arnhem with a city walk
While you're in Arnhem… Get to know the city better with one of our city walks! Our range includes the multiple Battle of Arnhem tours, highlights of the Arnhem tour, Street Art walk, Crime tour and Audrey Hepburn walk.
Traveling in Arnhem can be done in various ways via ArnhemLife. If you visit Arnhem with a group, you can book a city walk with one of our guides. This local guide tells you all the ins and outs about the city.
We also specialize in Arnhem Battlefield Tours. You can book a private local guide with us for a battle of Arnhem city walk, bike or bus tour. We love to learn about your wishes for the tour so we can tailor make it to fit your needs.
If you are going with a small group, a downloadable route might be a better option. After payment you will receive a PDF containing the info of the route and a link to Google Maps. The easiest is then, when you set out, one person manages the route and another reads the text that belongs to the different stops.
Hotel Bizar Bazar: a special overnight stay in Arnhem
Hotel Bizar Bazar is the 2nd converted church in this list. In this former Evangelical Lutheran you now imagine yourself in an Eastern atmosphere. The rooms 'hang' above the restaurant area, so if you've looked a little too deep during dinner (from the wedding you're visiting or the dance party that's going on), you'll be 'at home' in no time.
The interior of the former church from 1895 has been sustainably reused by owner Kreger and the designer duo Kokke & Hartman. Kreger, in collaboration with Kokke & Hartman, kept the hull of the church intact. What has been added can later also be removed without a trace. The hotel rooms 'float' in the church. They are separate square houses on high poles that are fixed in concrete that has been poured in the basement of the church. In order to minimize the energy demand, Kokke & Hartman have double insulated the hotel rooms, used only LED lamps and installed a ventilation system with heat recovery.
You will not soon forget sleeping in this hotel! Within a 5 minute walk you are in the center of Arnhem so after shopping you don't have to lug your bags far ;).
*Photos by Bizar Bazar en ArnhemLife (instagram)
Hotel Molendal: a special overnight stay in Arnhem
This hotel also deserves a spot in our list. The rooms are tastefully decorated, but what makes this hotel special in our opinion is the building itself. The building of Hotel Molendal was the first house in the Transvaalbuurt in Arnhem. The Transvaalbuurt is the first neighborhood to be developed north of the railway embankment in the early 20th century and is located near Sonsbeek Park. Entirely in line with the then views on the status of the city, it had to become a neighborhood that was attractive to the 'upper class'. The district has become nationally known for the shape and style of the housing, which was designed by the Hague/Arnhem architect Willem Diehl (1876 – 1959).
A stroll through the neighborhood and the adjacent Burgemeesterswijk is therefore not a punishment. You open your eyes. Hotel Molendal is located on the St. Jansbeek, this is perhaps the most picturesque spot in Arnhem.
*Photos by Hotel Molendal en Sjoerd Wiltjer (instagram)