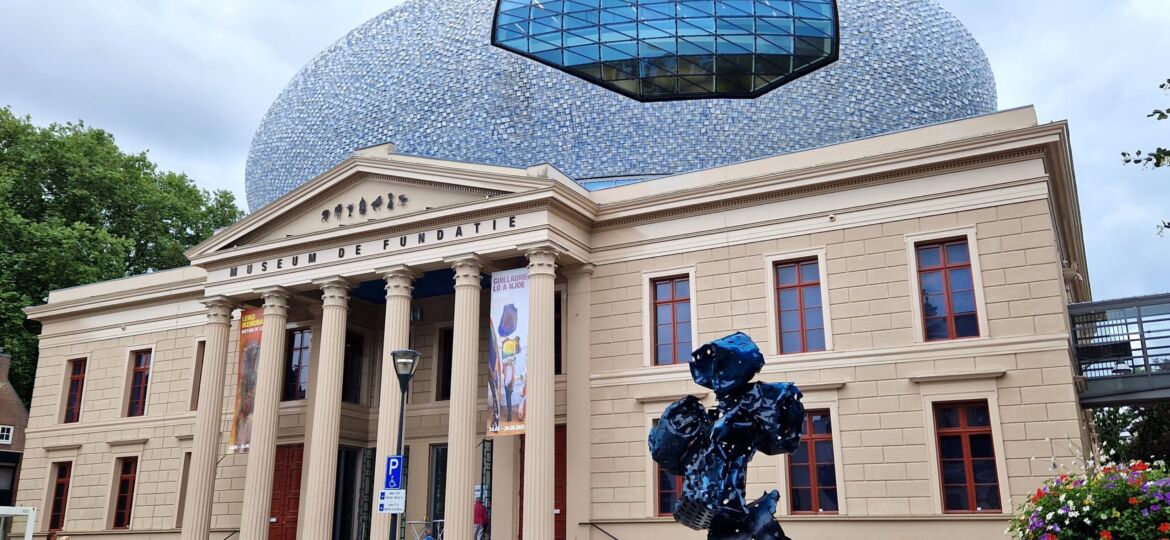 1 day in Zwolle, what to do, where to go
Zwolle is such a nice city! We visited the capital of Overijssel and listed what to do and where to go in Zwolle.
Just visiting a city on spec? That's not our style. The anticipation starts with the search for cool places to eat, beautiful 'instagram worthy' streets and where you can go with the museum card. So this blog will help you plan your visit to Zwolle. Do you get 1 or 2 tips from it? Fine! Maybe you use all the tips and stops for your visit to Zwolle, then after reading this blog you are ready to hit the road!
Visit Zwolle by train
Zwolle is very easy to reach by train. For us from Arnhemit took us 1 hour from Arnhem central station to Zwolle central station.
If you come from Utrecht, it takes between 50 and 75 minutes. If you travel from Amsterdam, you will be on the road for about an hour and a half.
From Zwolle Station it is about a 10-minute walk to the center.
The most beautiful streets of Zwolle
Are you looking for the most beautiful streets in Zwolle? We help you find your way! Take a walk through the Papenstraat and the streets around it.
The Papenstraat is a historic street in the center of Zwolle, known for its charming architecture and rich history. The name "Papenstraat" has a religious origin and refers to the Catholic clergy who lived in this street during the period of religious division in the Netherlands. "Papen" was a term used to refer to Catholics.
Nearby is also the Celeplein where you can find the statue of Johannes Cele.
The statue of Johannes Cele is a striking feature near the Papenstraat. Johannes Cele was a well-known figure from the 15th century, a so-called Modern Devotion brother. Modern Devotion was a religious movement focused on personal and spiritual renewal and devotion. Johannes Cele was a Carthusian monk and mystic who played an important role in the spread of the Modern Devotion in the Netherlands.
The statue of Johannes Cele is located on the corner of Papenstraat and Praubstraat. The statue shows Johannes Cele in his Carthusian habit, with a book in his hands. The statue is a reminder of his spiritual contribution and his ties to Zwolle as the city where he was active. The statue is a tribute to his commitment to spiritual renewal and his role in the history of Zwolle.
Also visit the Goudsteeg and Praubstraat if you like beautiful old alleys.
The best lunch spot in Zwolle
What is the best lunch spot in Zwolle? You would have to test them all first to be able to say that. Unfortunately we didn't have time for that. But… with a little help from the reviews on Google, we ended up at a very nice lunch spot: De Gillende Keukenmeiden.
What a wonderful place to give your legs a rest. This colorful lunchroom is atmospheric and you can sit outside. The service was super friendly and attentive and the lunch was delicious. Definitely a place where we will make a stop next time, because we didn't get to taste the cakes!
What can you do with your museum card in Zwolle?
We prefer to use our museum card as much as possible, but in Zwolle the choice was limited: we could only enter museum De Fundatie for free.
Actually, a visit to De Fundatie is part of a day or weekend in Zwolle anyway.
Museum de Fundatie is an art museum with a changing collection. The museum was founded in 1958 and has two locations: one in Zwolle and one in Heino/Wijhe. The main museum building in Zwolle is a striking work of art in itself due to its striking architecture.
The main building of Museum de Fundatie in Zwolle is located in a former palace called Paleis a/d Blijmarkt. This palace was originally built in the 19th century and served as a court and later as a provincial house. The museum building has a striking dome that rises above the building and functions as an additional exhibition space.
Various art collections are exhibited in the museum, ranging from old masters to modern and contemporary art. The collection includes paintings, sculptures and other art forms. Works by well-known Dutch and international artists are on display. Museum de Fundatie regularly organizes changing exhibitions and events to offer visitors a varied and inspiring art experience.
A highlight in Zwolle: the Sassenpoort
The Sassenpoort is one of the most iconic and well-preserved medieval city gates in the Netherlands and dates back to the 14th century. An interesting fact is that the town crier used to stand on the tower of the Sassenpoort to make important announcements to the population. This was a way of spreading news before there were modern means of communication. It is a must-see for visitors interested in historic architecture and city defense systems.
Construction of the Sassenpoort started in 1409 and was completed in 1439. The gate served as one of the gateways to the city of Zwolle and was part of the city walls and defenses. The gate was intended to protect the city from outside attacks.
The Sassenpoort is a beautiful example of Gothic architecture. It has an imposing appearance with towers on either side and a central passageway. The gate is made of brick and has characteristic decorations and details in the style of the late Middle Ages.
Over the years, the Sassenpoort has undergone several restorations to preserve and restore it. It is now open to the public and can be visited to learn more about the history of Zwolle and the city's defences. The Sassenpoort is recognized as a national monument and is considered an important cultural heritage of the Netherlands. It symbolizes Zwolle's rich history as a Hanseatic city and the importance of defenses in the past.
This beautiful medieval gate is not always open to visitors, so check Google for the opening times before you visit Zwolle.
A 'must visit' in Zwolle: Bookshop Van der Velde in de Broeren
Bookstore Van der Velde in de Broeren is a real household name in Zwolle and, in addition to locals, many tourists also visit this place. If not for the many books that can be found here, then it is for the location. It is located in the former Broerenkerk, a medieval church that has been converted into a unique bookshop.
The Broerenkerk, originally built in the 15th century, served as a monastery church for the Dominican order. After the Reformation, the church lost its religious function and was used for various purposes, including storage and exhibition space.
In 2005, the Broerenkerk was converted into the bookshop Waanders in de Broeren. It was a unique repurposing that ensured the preservation of the historic building while creating a new cultural destination. The result is a beautiful combination of religious architecture and books.
It's good to plan a visit to this bookstore at the end of your day, if you can't resist the temptation of all the beautiful/interesting/special books, then you don't have to lug them around all day ;).
Grab a bite to eat in Zwolle
All that walking and poking around must have worked up an appetite. Would you also like to have a bite to eat in Zwolle? Certainly do! We have already done some research and came up with a top 3 of restaurants. These are just our tops! Search around on Google Maps for a restaurant that appeals to you the most, view the photos and compare the reviews for a well-considered dinner location :),
Mexican at La Cucaracha
Ramen Noodles at Misoji
Sushi at Wasabi
We went to eat at Mosiji and sat outside. Our tummies were already rumbling, so we quickly found a place, placed the order and at 18:00 the starters were already in front of us. The terrace was still almost empty, but in no time there was no room left. Do you want to be sure that the restaurant of your choice has a table available for you? Then make a reservation online.
This restaurant focuses on Asian street food, we feasted on the gyoza, kara-age, takoyaki and delicious spicy ramen noodle soup.
After dinner, the 'after dinner dip' set in hard, and we were ready to go home.
One thing we know for sure, we will be back and we are far from bored in this Hanseatic city!
Find a hotel in Zwolle
Would you like to turn your day in Zwolle into a weekend or midweek? Definitely do, there is plenty to see and experience. Here are our top 5 hotels in Zwolle:
Bilderberg Grand Hotel Wientjes
Kijk hier voor nog meer hotels in Zwolle.
Who are we?
You are now on the ArnhemLife website, in the section of our travel blogs. We are fond of making city trips ourselves, and like to write a report about it with tips about the city in question. In this case Zwolle.
The website is mainly about Arnhem, as the name suggests! Here you can find information about the city and you can book various tours with or without a guide. Put Arnhem on your list for your next city trip.