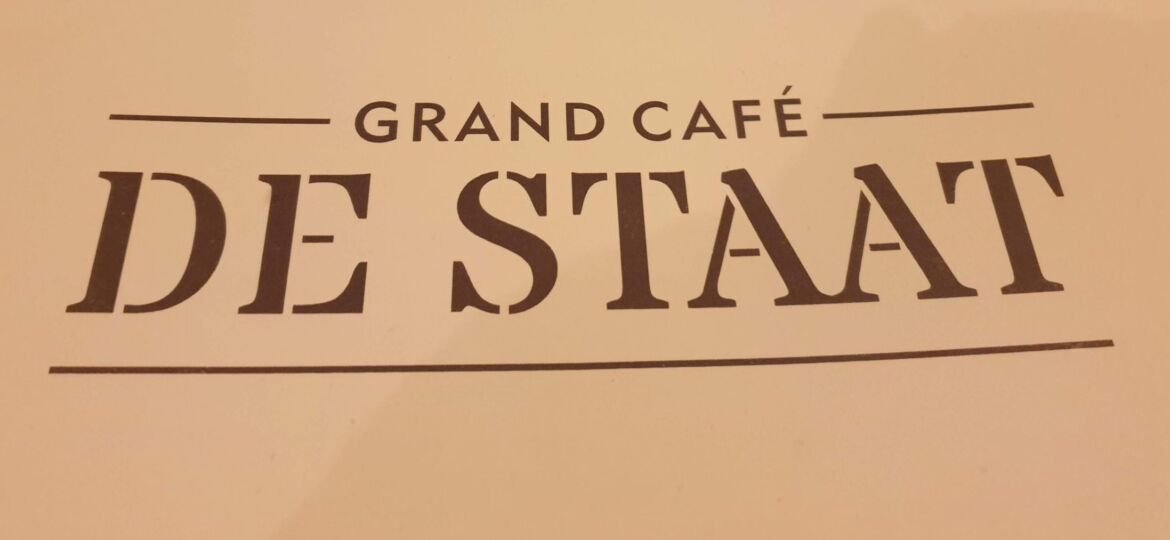 UPDATE: This restaurant is no longer in business
A Warm Welcome At 'Grand Café De Staat' In Arnhem
You may already know it, but in addition to ArnhemLife organizing city tours and company outings, we are also a blog about Arnhem. For tourists, expats and locals, in Dutch, English and German.
For example, on our site you will find blogs about new restaurants in Arnhem and this blog about 'Grand Café De Staat' should not be missed!
Now you may be wondering, huh, 'The State', that restaurant isn't new is it? You are somewhat right about that. From 2017, this beautiful, old Arnhem building, located on the Market, has been called 'De Staat'.
The restaurant has recently been taken over by a new owner. This can be seen in subtle changes, but the 'look & feel' is actually still the same: a warm welcome, cozy decor, friendly service and delicious food and drinks.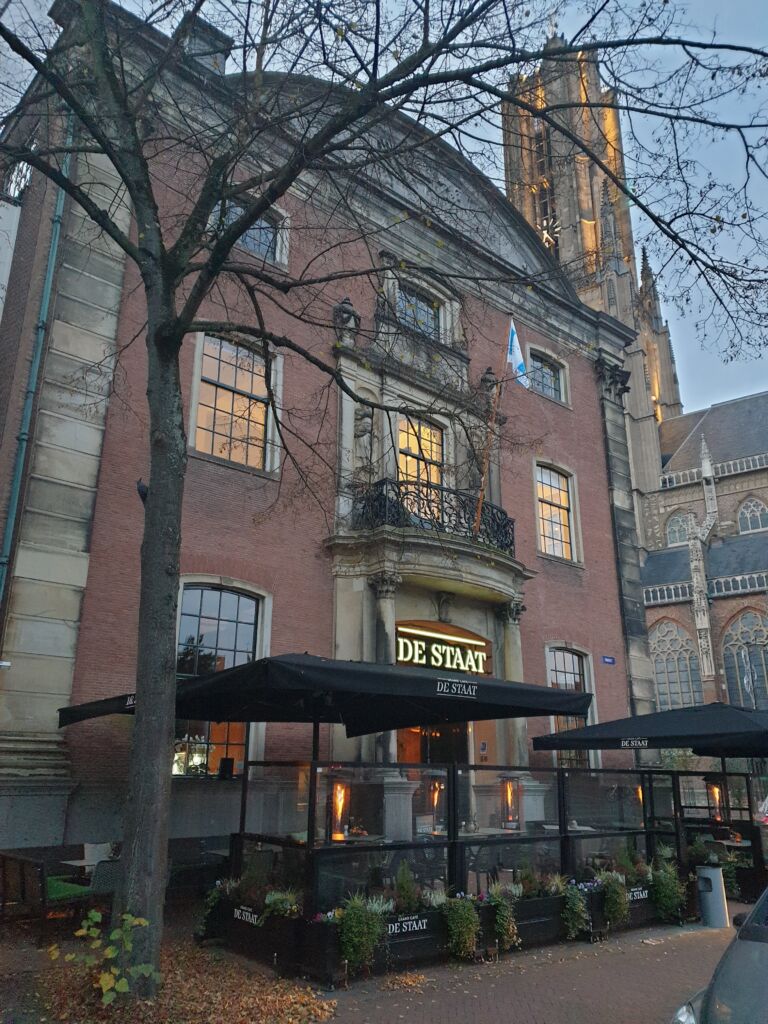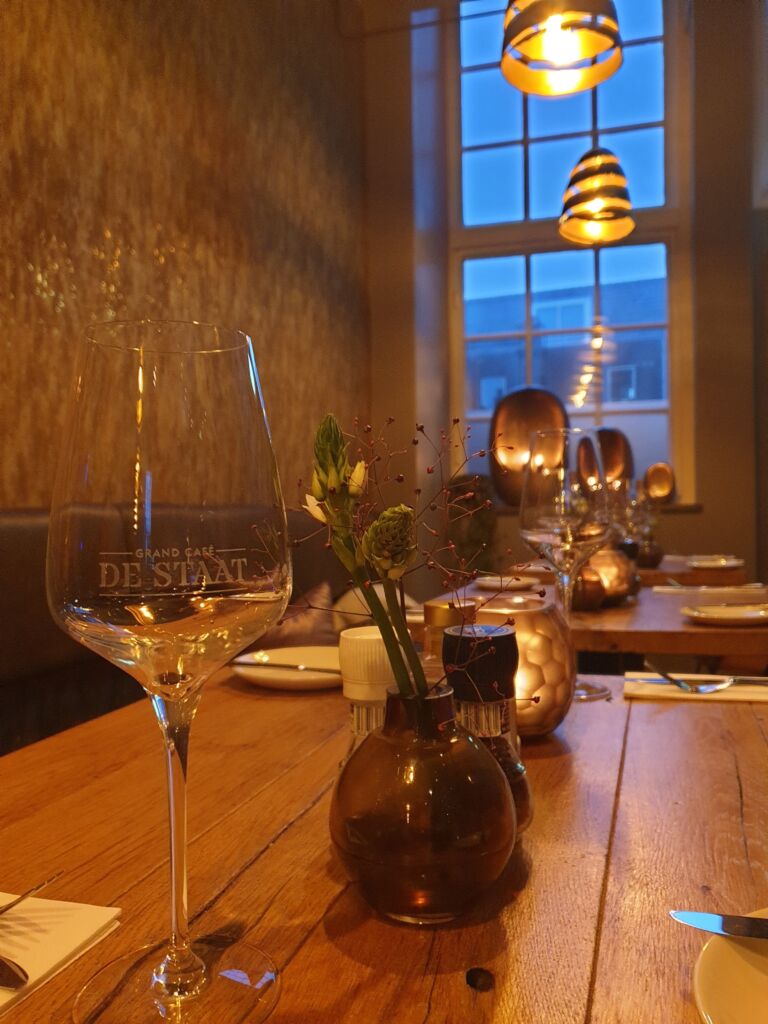 Sniffing up Autumn At The State At The Market
We let ourselves be pampered this evening. It's autumn. At 6:30 pm it is already dusk. The torches are already lit outside the entrance of the restaurant. Hey, cozy. We are received by hostess Lauraine and soon we have the menu in our hand and there is a delicious red wine in front of us.
One look at the map and I can already see that making a choice is going to be difficult. We therefore decide to let the chef choose for us. The result: one autumn menu with meat and one autumn menu without meat. After we've gone through the week for a bit, our appetizer is already arriving.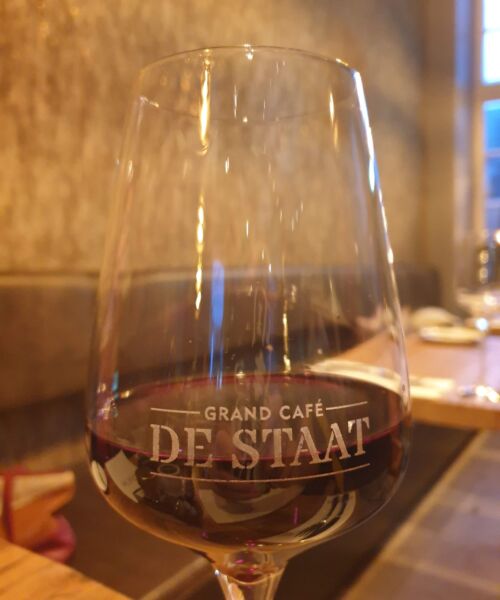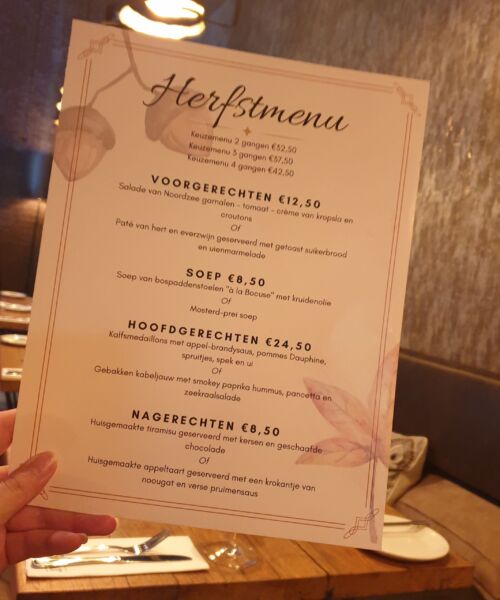 Can You Lick Off Your Plate Here?
Oh that looks beautiful! On my plate is a pate of deer and wild boar and on the plate of my dinner guest a salad of North Sea shrimps. While the food on my plate looks delicious, the dish across the street from me also makes my mouth water!
We are pleasantly surprised with the layout and flavors on the plate. Lauraine comes to check if everything is to your liking and not much later she picks up our empty plates. My dinner guest wanted to lick the plate, but we thought that was going a bit too far. That's just the way it is…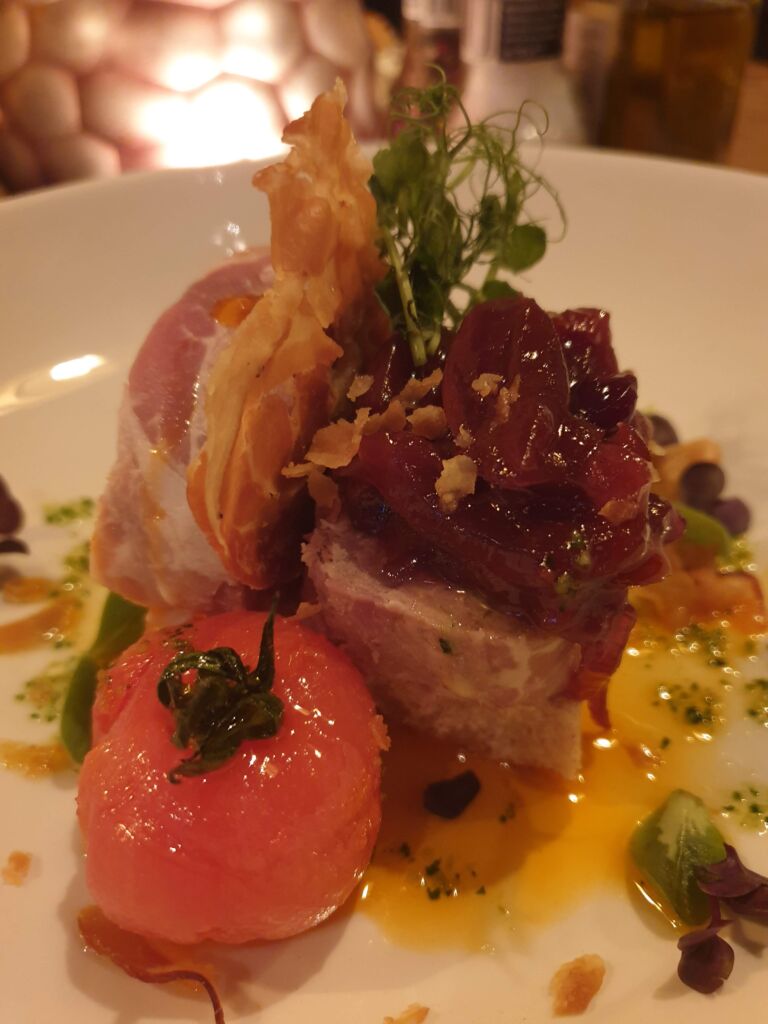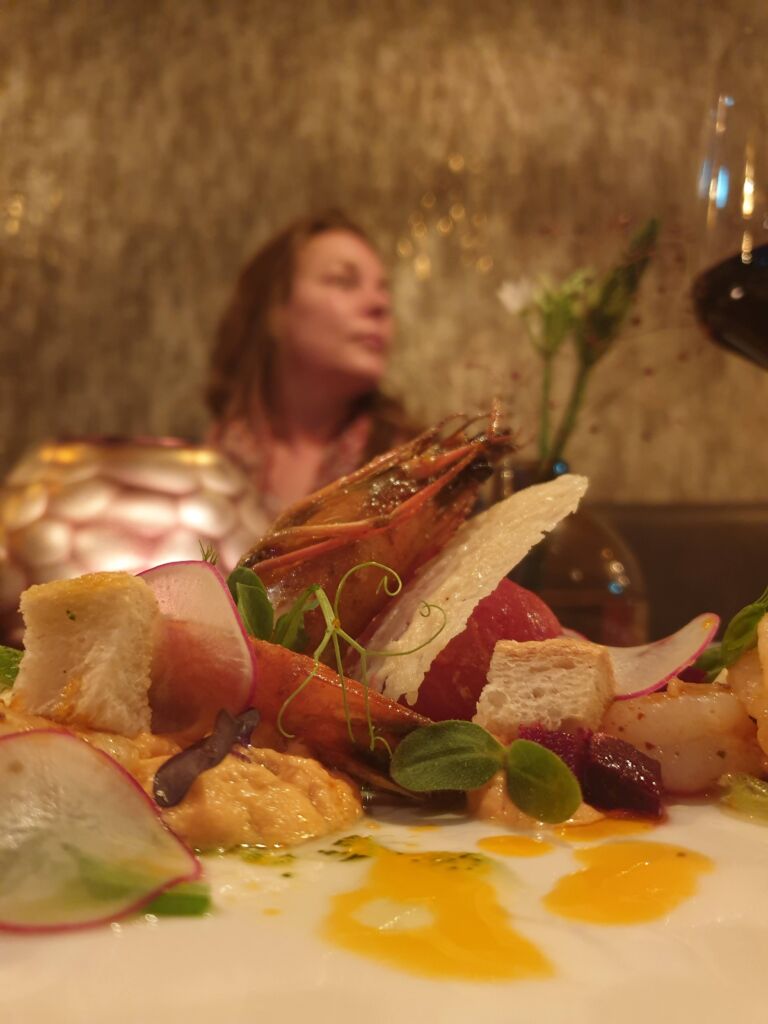 How Lucky Are We!
On to the main course. That looks just as beautiful! At 'De Staat' they have hired a good chef: Mihai, previously chef on a cruise ship, but yes, they have been idle for a while and so his permanent mooring place is currently Arnhem. I hope he stays for a while!
In front of us on one plate are veal medallions with apple brandy sauce and on the other plate a baked cod with smokey paprika hummus, pancetta and samphire salad. Oh dear! What a bunch of lucky people we are, that we can just eat here on a Tuesday evening at 'Grand Café De Staat'. Satisfied we feast and feast on the dishes with tasty autumn vegetables.
Lauraine ensures that our glass stays full. There is nothing more annoying than eating, but not having a nice drink within reach to take an occasional sip. Such a smooth red wine fits perfectly with the menu that Chef Mihai has chosen for us, so we continue to sip between bites.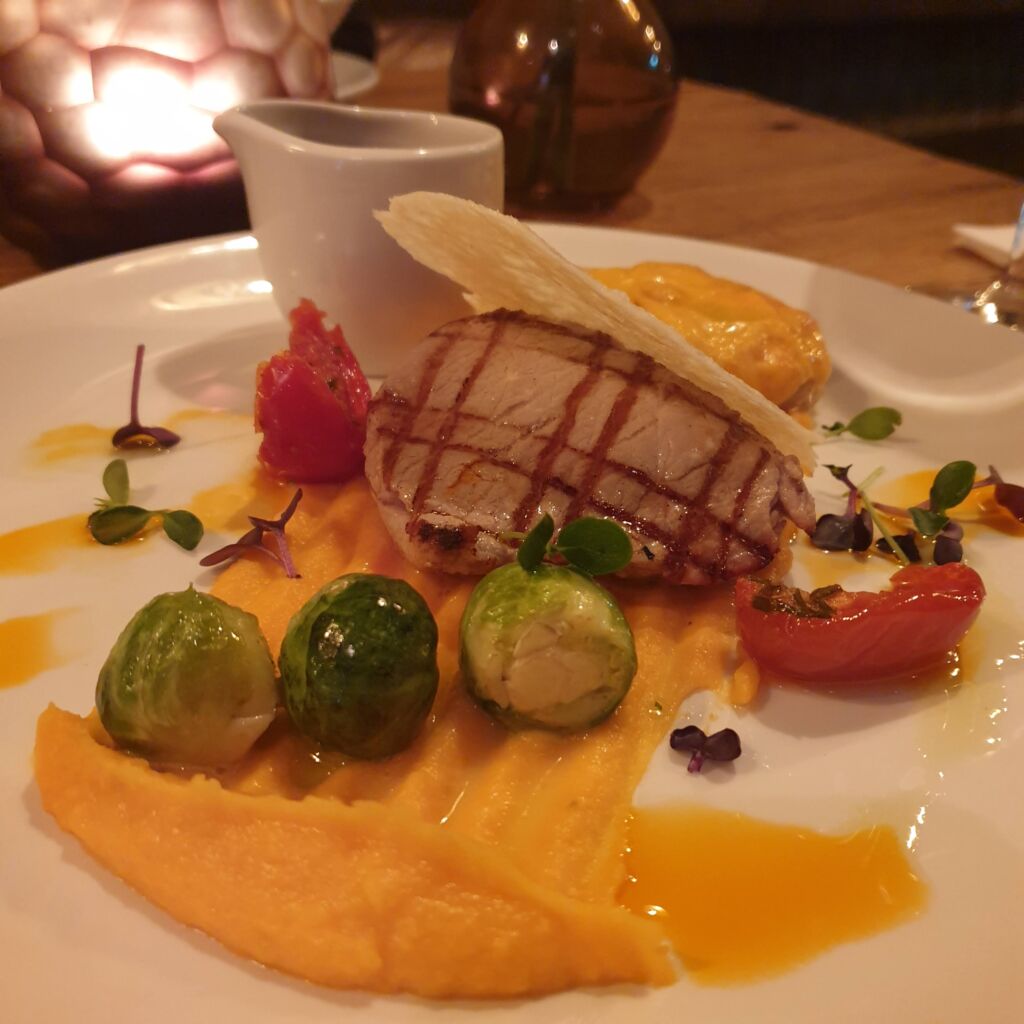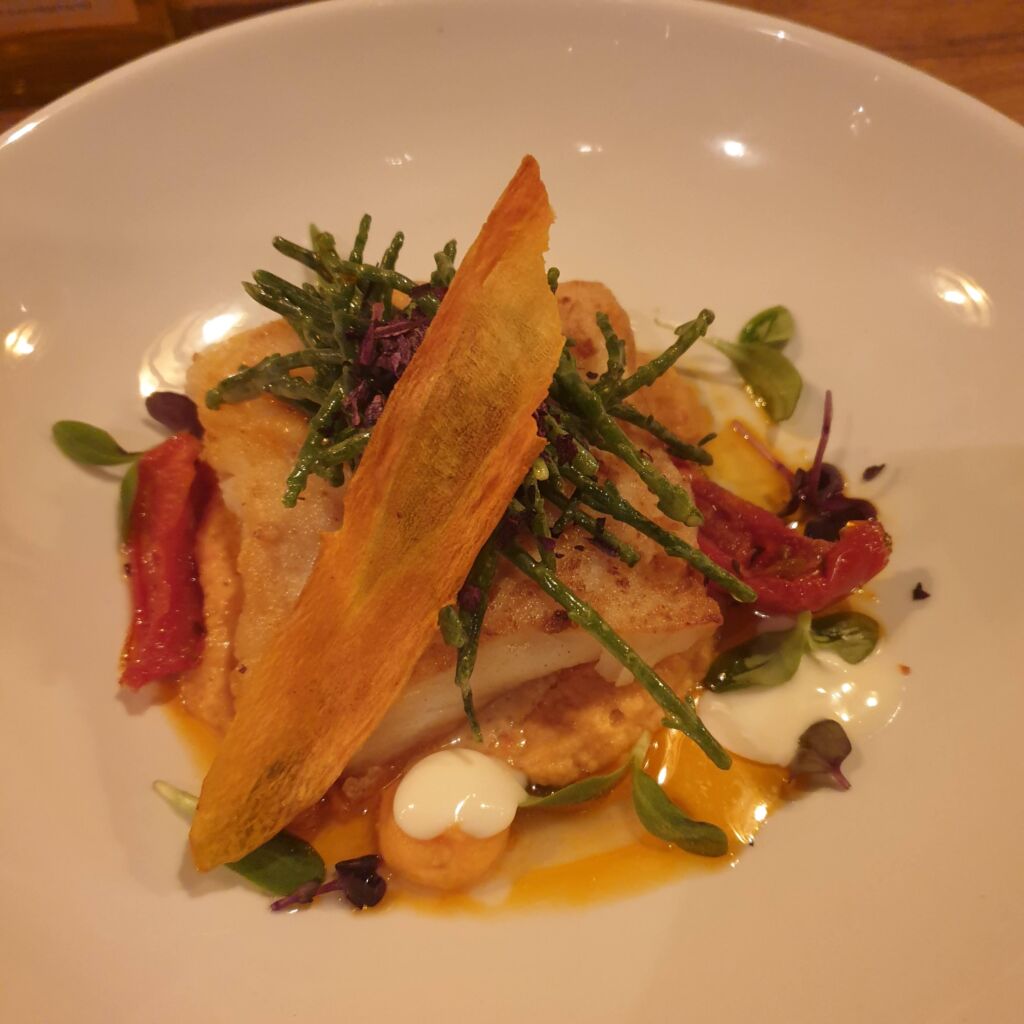 Make Room For Dessert
Well, such a autumn menu is quite filling! We take a short break so that we can make some space inside for dessert. As soon as we think 'yes, it's possible again' Lauraine comes around the corner with the desserts. How does she know that!? In front of us are a homemade tiramisu and a homemade apple pie. Because we both like it, we switch halfway through. We also drink a delicious glass of port.
Our favorite of the two is the tiramisu and that's not only because I just read that the creator of the tiramisu passed away this week (RIP Mr Campeol), but certainly a good reason to have this delicious dessert at Grand Café de Staat much more often. to eat. Because you can of course also eat such a dessert at 11:00 in the morning with your cup of coffee, right?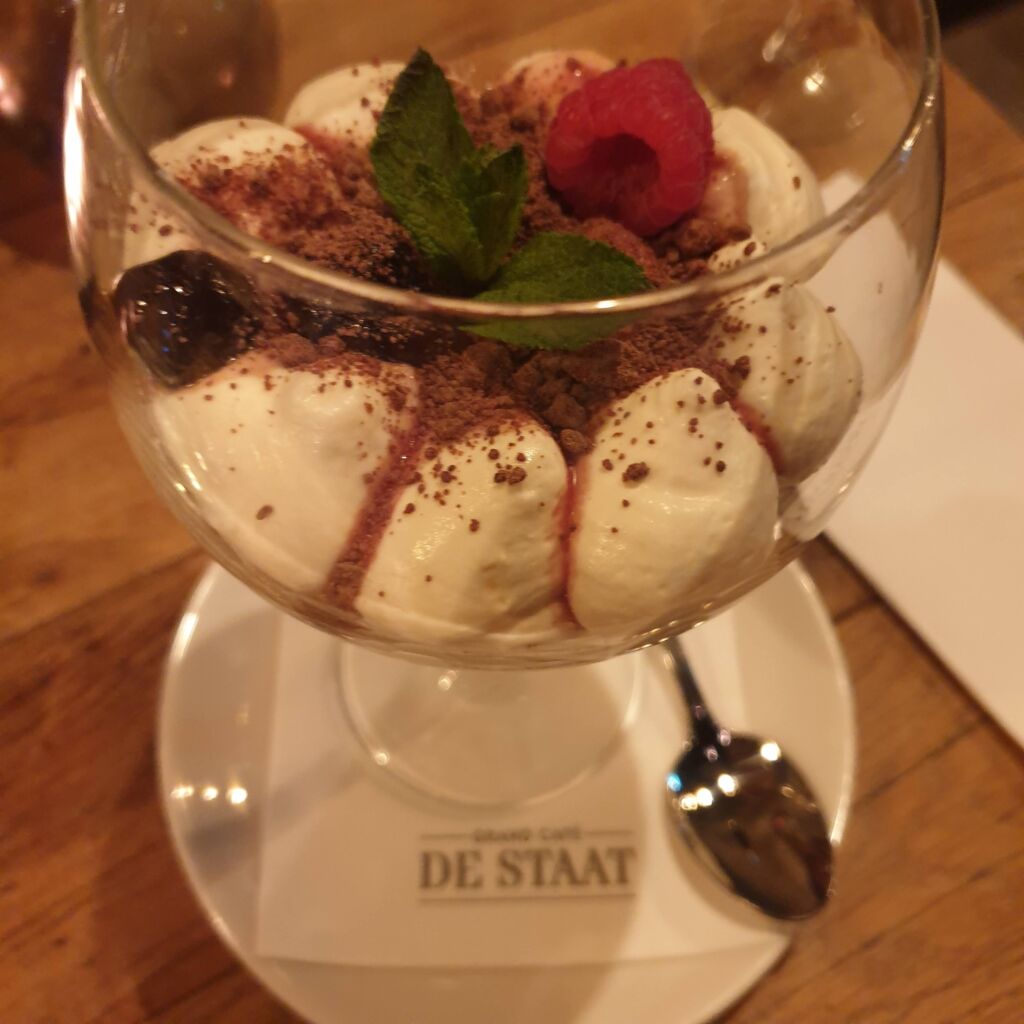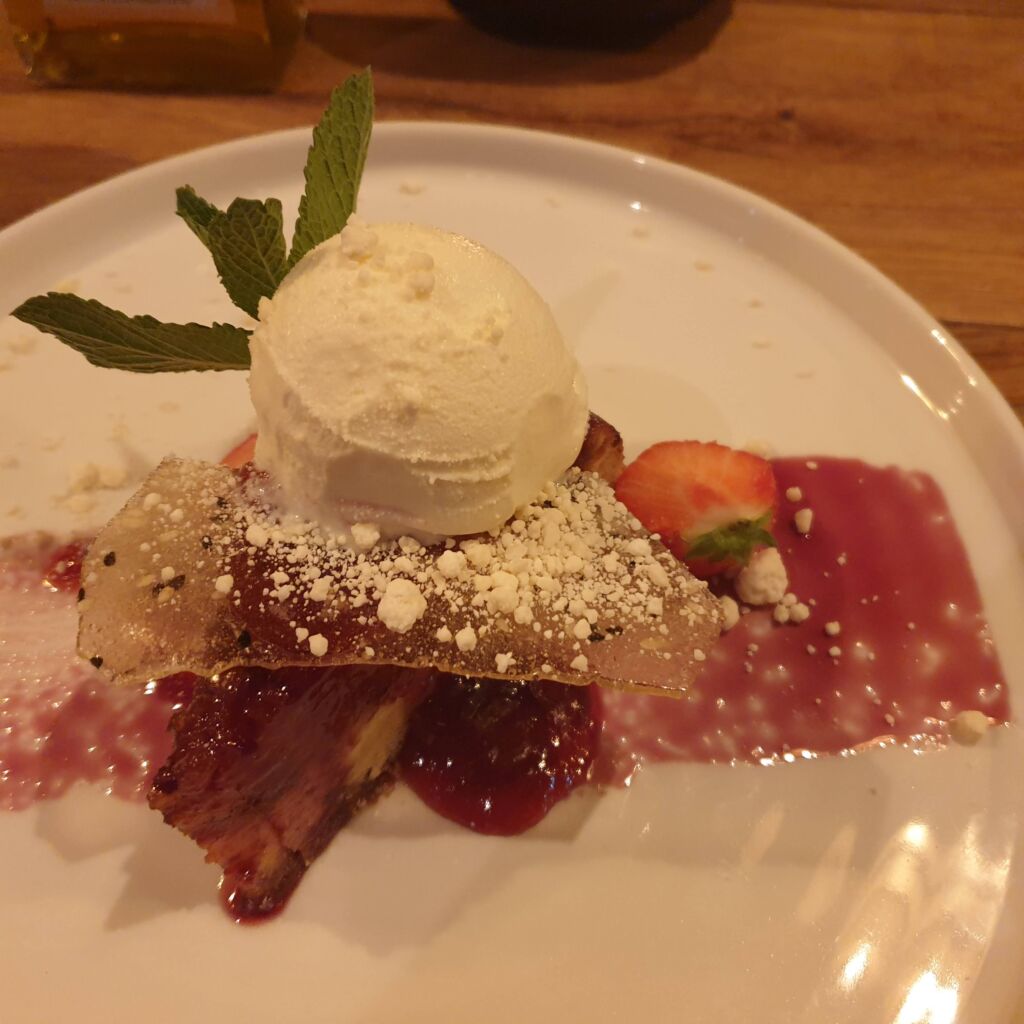 We Can Check Off The Autumn Menu
Lauraine collects the plates and asks if we have any coffee left. Well, normally I like a cappuccino after such a delicious meal, but it just doesn't fit anymore.
We had a wonderful evening at 'De Staat'; what a nice atmosphere there! Nice and relaxed and no hassle. Just as it should really.
We can check off the autumn menu, hopefully there will soon be a winter, spring and summer menu, then we will come back anyway because we really don't want to miss it!
Oh yeah! Just this! Besides the fact that you can enjoy delicious food and drinks at De Staat, you can also enjoy brunch on Sundays and they regularly organize fun events such as the Spanish Sunday. Knowing more? Then take a look at the website: https://www.destaatarnhem.nl/