Foodblog Arnhem
You may already know it, but in addition to ArnhemLife organizing city tours and company outings, we are also a blog about Arnhem. For tourists, expats and locals, in Dutch, English and German.
For example, on our site you will find blogs about new restaurants in Arnhem and in this blog we would like to tell you about new restaurant 'Loca' in Arnhem.
Dining out at Loca in Arnhem
Can you call it a hobby: eating out in Arnhem? Tonight the dishes of restaurant 'Loca' in Klarendal are on the menu, and we are excited to taste them. 'Loca' is very highly regarded, with top reviews on Google and The Fork. 'One of the better tents in Arnhem', a friend of mine said.
Now I have to be honest, because I live in the center I don't often go outside the center ring, and with that I am selling myself short. It's only a 10-minute walk to 'Loca' for me, and a walk to/through Klarendal is always a party.
Klarendal, a characteristic district, dates back to 1830 and has a considerable turbulent history. Dilapidated buildings, crime and many coffee shops made way for the 'Arnhemse  fashion district' with small fashion shops and trendy catering establishments. A neighborhood where people now want to live.
We enter at 279 Rosendaalsestraat and see a beautiful, robust restaurant with an open kitchen. Soon we take a seat at a table by the window. Take a quick look at the menu, oh there's a lot of goodies on it! We decide to let the chef choose for us, so it remains a surprise what we will eat tonight.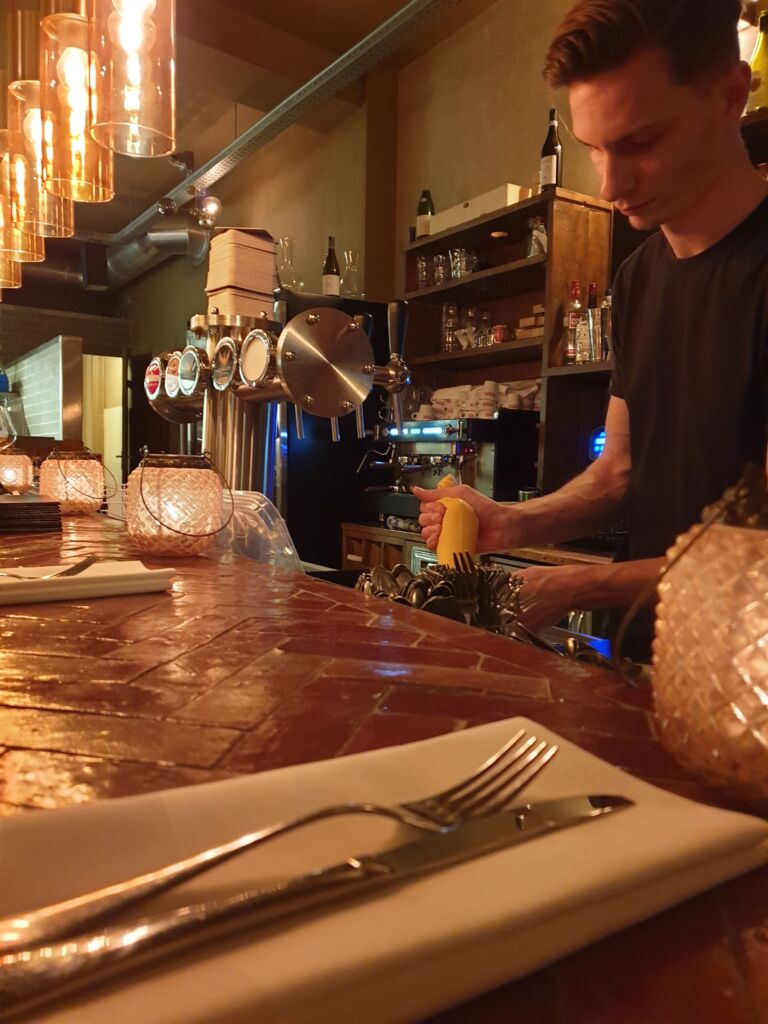 The concept of restaurant Loca
Loca is a place where contemporary cooking is done with a nod to Spain and where the basics are French. The kitchen works as much as possible with Dutch products: fish from the North Sea, meat from Dutch soil and vegetables and herbs from Arnhem gardeners.
For example, they work closely with the 'Visbroertjes' and the butcher's shop 'De Groene Weg', both located in Steenstraat.
At 'Loca' they serve small dishes. It's really about the taste here, and you will experience that for yourself when you eat here.
Next to our glass of smooth red wine is a delicious sourdough bread with chili butter. The bread comes from bar/Hotel Karel, nearby. Definitely a nice bottom.
New guests trickle in and soon people are buzzing. The restaurant is full, and that on a Wednesday evening. Reservations are therefore recommended if you also want to eat at 'Loca'.
Our menu of small snacks and dishes
We continue with 2 small aperitifs. A cookie with pips and seeds with a tandoori dip and a rice crispy with cream of vadouvan, sweet and sour radish and Indian cherry. Hmm tasty! I take small bites to enjoy the dishes for as long as possible. This tastes like more!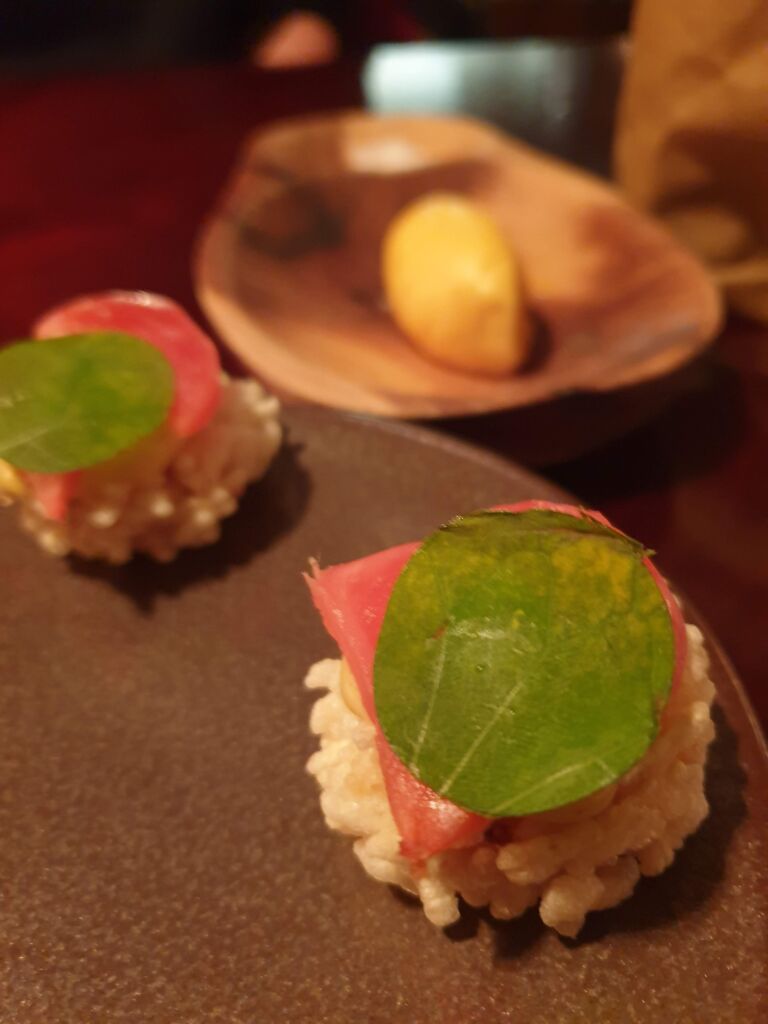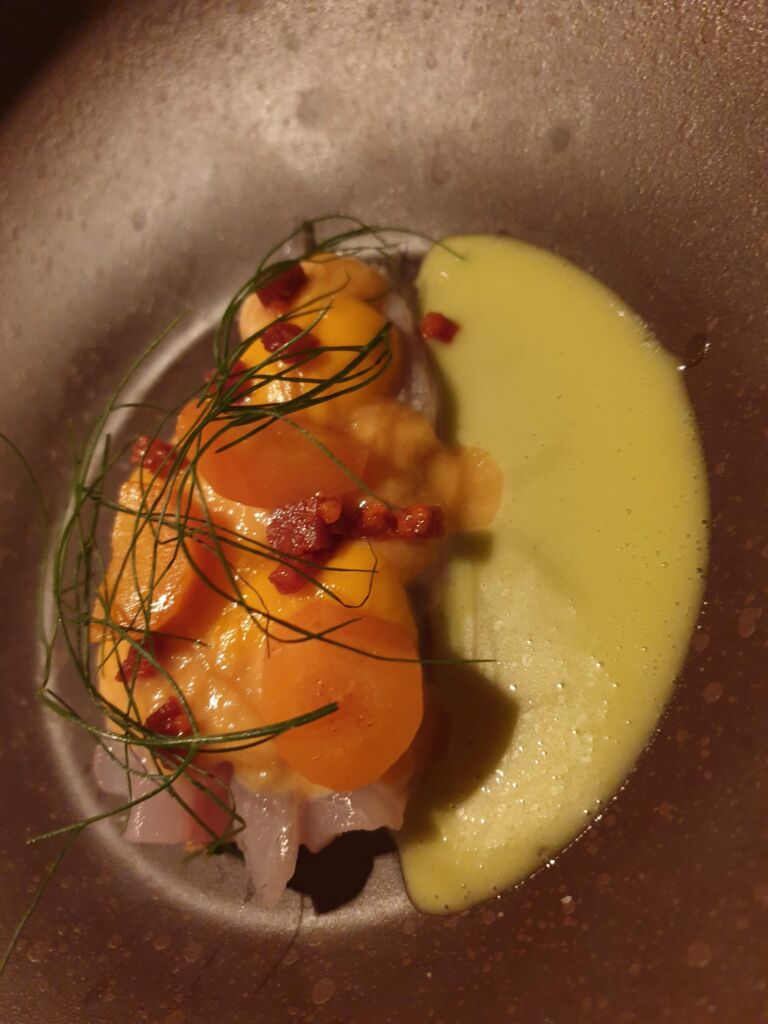 Entrecote with a cream of Zeeland bacon and… leek
Fortunately, the main course is soon in front of us. Entrecote with a cream of Zeeland bacon, Brussels sprouts, leek, roasted onion, a mustard gravy and a crumble of roasted cashew nuts. A party on our plate. In addition to the meat being nicely cooked, the Brussels sprouts and leeks are also real stars in this dish. Maybe I should prepare leeks at home more often? Apparently you can make something delicious with it. Learned something again.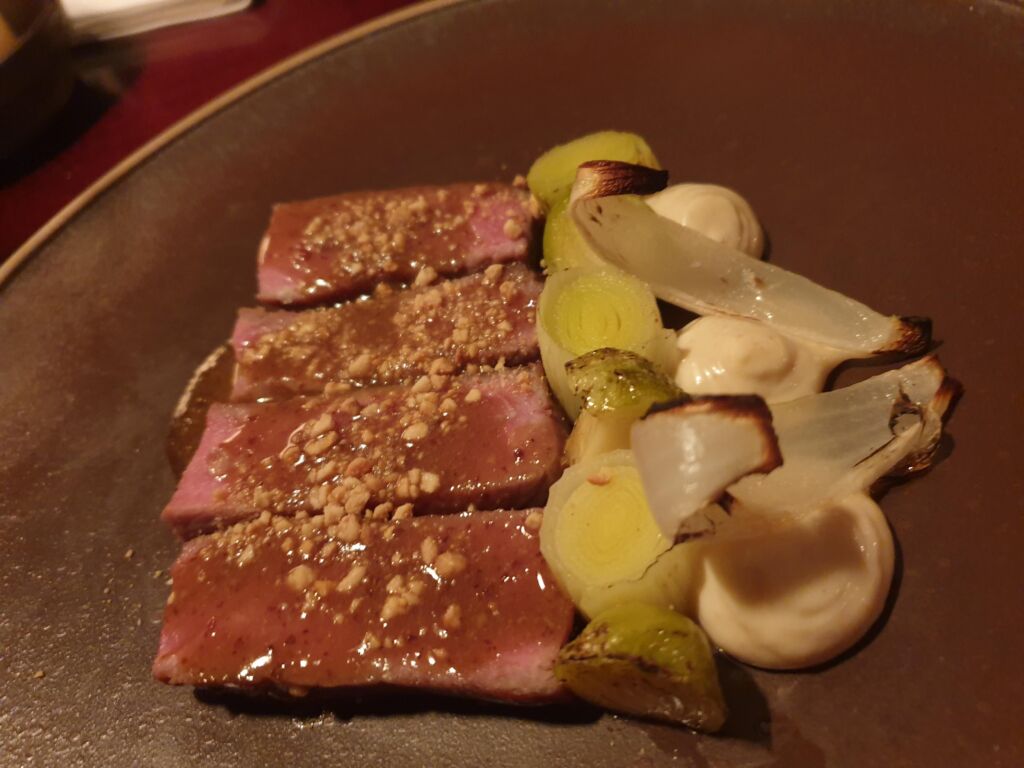 The 'Loca' experience
We are approaching the end of our 'Loca' experience, because that's it! We can look forward to dessert for a while. What will it be? Two beautifully laid out plates come our way with a raspberry and cardamon cremeux, a puff pastry crisp, a raspberry gel and a dill gel. In addition, very tasty raspberry / pistachio ice cream with a delicious cookie crumble.
We finish with coffee and a sweet treat. What a nice evening this was! Enjoy the beautiful dishes that come out of the open kitchen of restaurant Loca, prepared with care by the chef, and eaten with care by us!
Loca, thank you for the good care and the warm welcome in your beautiful restaurant.
Are you curious about our other forum blogs? Then click on this link.