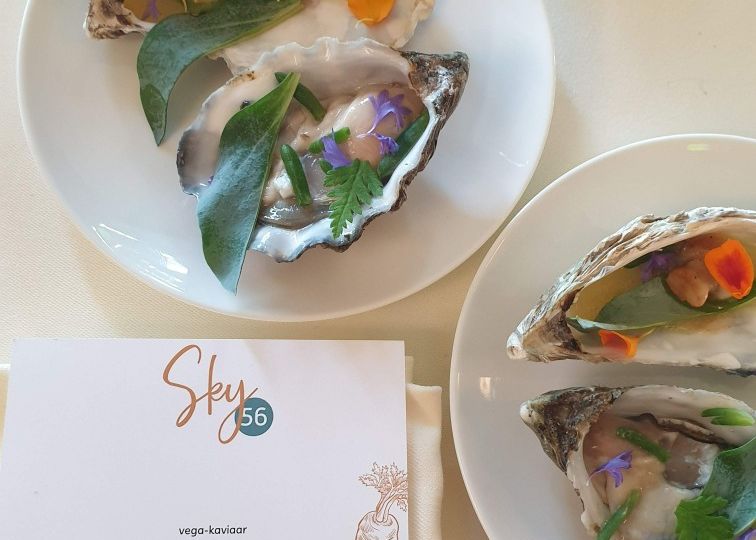 Fine Dining at restaurant Sky56 in Arnhem
On a Monday evening we report to the Rijnkade where fine dining restaurant Sky56 has been open for three days. In addition to Sky56 – the fine dining restaurant – you can go to the 'regular' restaurant Sky, where the terrace is already full at the moment.
You may already know it, but in addition to ArnhemLife organizing city tours and company outings, we are also a blog about Arnhem. For tourists, expats and locals, in Dutch, English and German. For example, on our site you will find blogs about new restaurants in Arnhem and in this blog we would like to tell you about restaurant Sky56.
Our coats are accepted and the beautifully set table that awaits us promises a lot of good. To be honest, we don't often eat that fancy, so it was a real surprise when we were allowed to take a seat in this chic restaurant.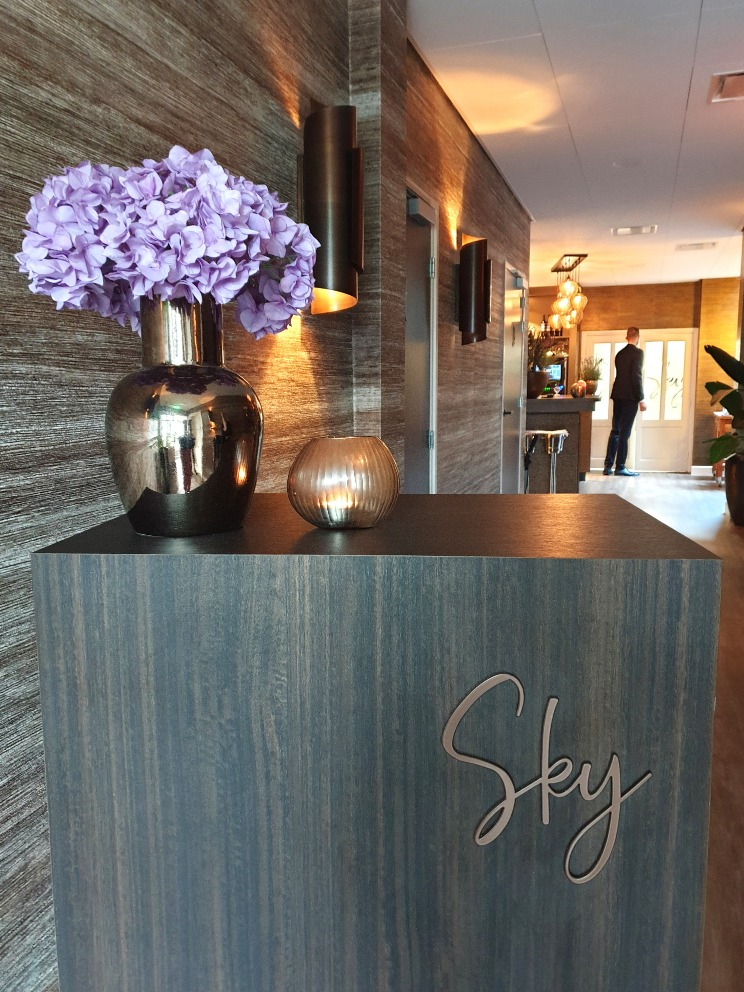 Concept Restaurant Sky56
We also don't really know what to expect. Fortunately, we get an explanation from maître sommelier Thijs. He explains the concept of restaurant Sky56 to us: The menu consists of 5, 6 or 7 courses with various amuse-bouche and small dishes made and conceived by chef Sibrecht Benning. The emphasis is on dishes with vegetables that really get the chance to shine, modern techniques are applied to get the best out of the products.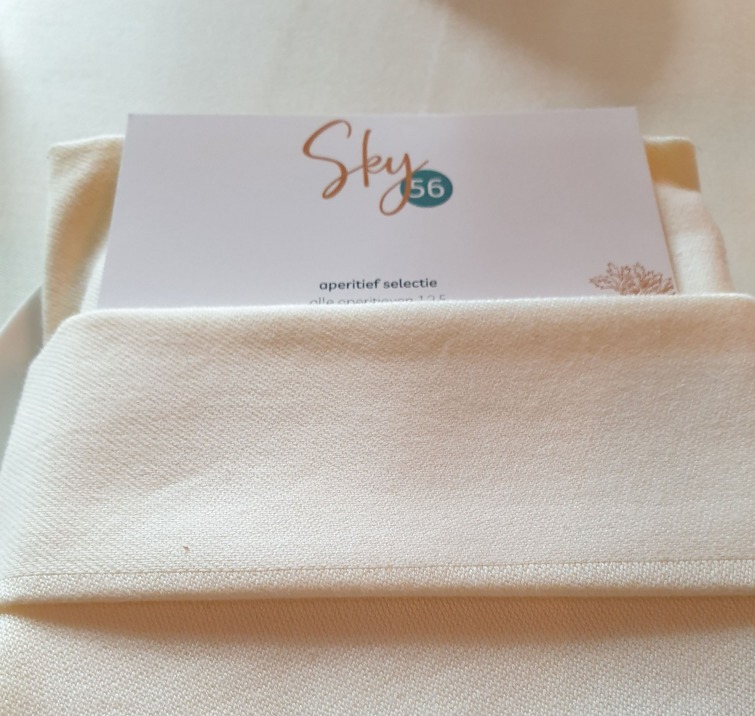 Experience at the table at Sky56
At Sky56 it is not the case that you only get a plate with food in front of you, it is quite an experience! The dishes are presented with care, as a guest you are really pampered. We saw smoke-filled baskets pass by, the cutlery changed with every course and the most beautiful wine glasses we ever saw were presented with delicious wines.
Luxurious and warm decor at Sky56
A delicious glass of Champagne is poured for us, we toast to the good life and take a good look around us. Wow, it looks beautiful in here! The luxurious and warm decoration at Sky56 provides a welcome and cozy feeling. We look fascinated at the different fireplaces, is there a flame in it or not? Later in the evening we find out the answer.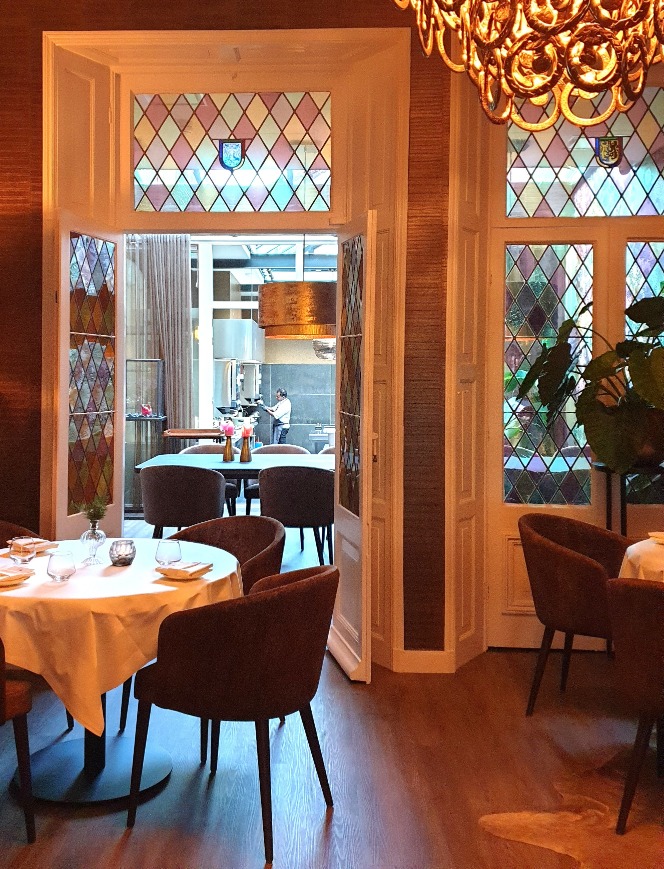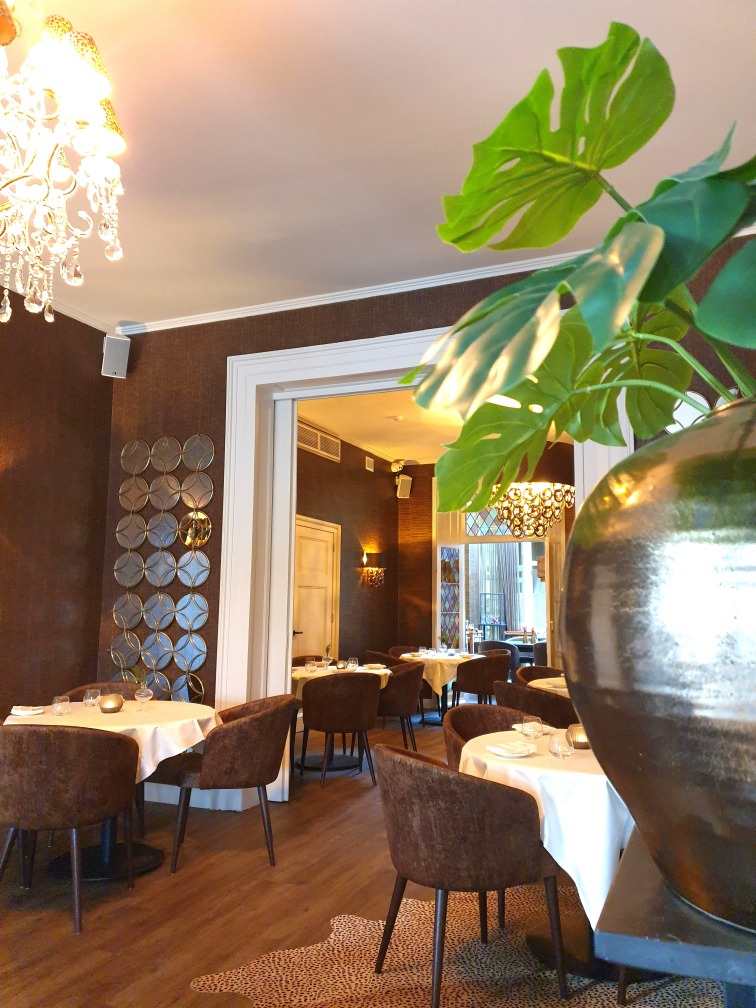 The Amuse-bouches of Restaurant Sky56 make you want more!
The first appetizer is in front of us: two beautifully prepared oysters, one real and one vegetarian option, which is made from a mushroom. I love oysters myself and my heart always skips a beat when I see them somewhere on the menu. To taste a vegetarian version was very nice and special. As I said, the emphasis at Sky56 restaurant is on vegetarian dishes. If you indicate on arrival that you follow a vegetarian diet, you will not be served meat or fish dishes.
After an amuse-bouche of smoked watermelon (so delicious!) and cauliflower, more tasty dishes follow.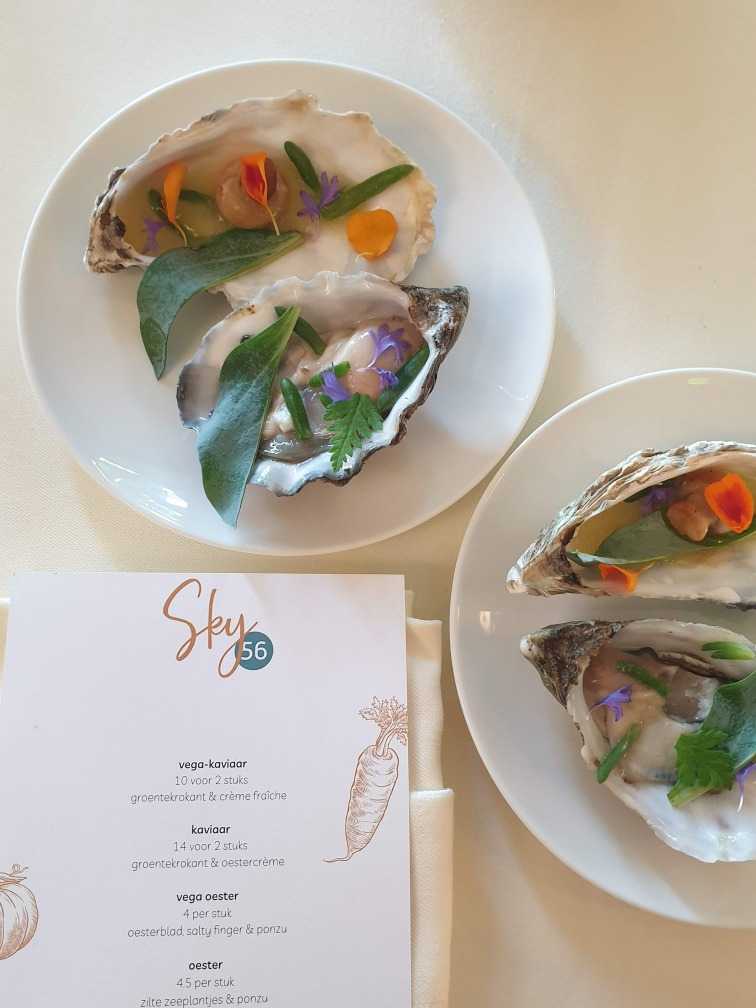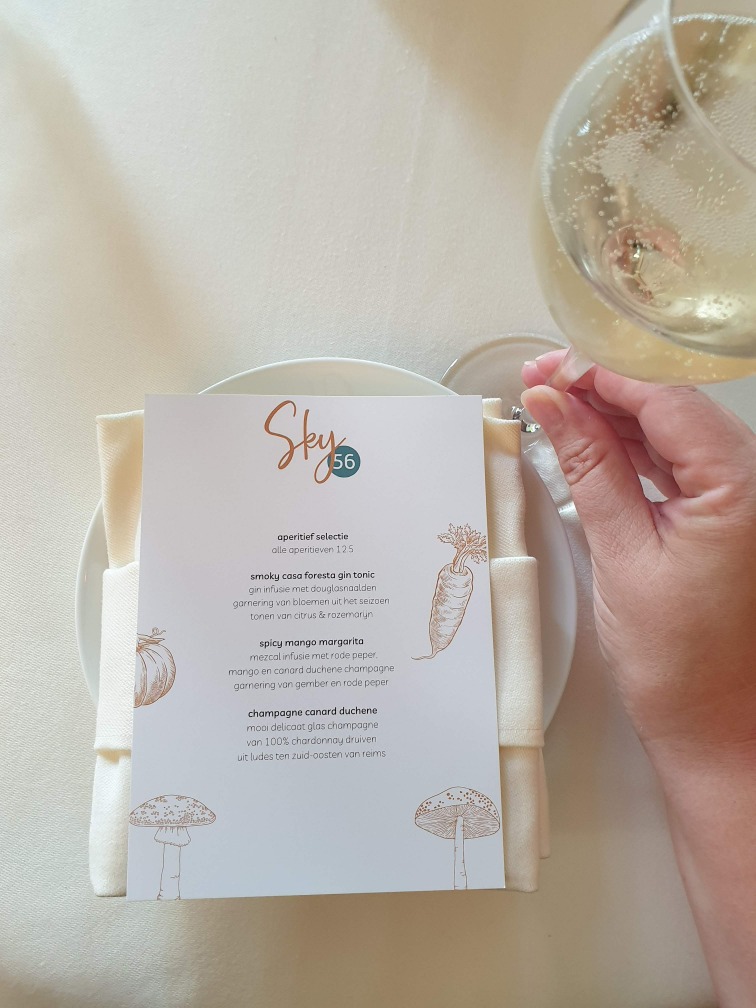 Picking flowers at restaurant Sky56
While waiting for our next course, maître Thijs brings us a small bouquet of new flowers for the table. "How thoughtful," I thought. But what I didn't know at the time is that these edible flowers were part of our next dish. A flatbread/crepe, decorated with dots of avocado and sriracha sauce. Optionally, we can enrich this dish ourselves with small flowers in front of us. Well, you don't have to tell me twice. This flatbread also tasted really good and looked super colorful because of the flowers.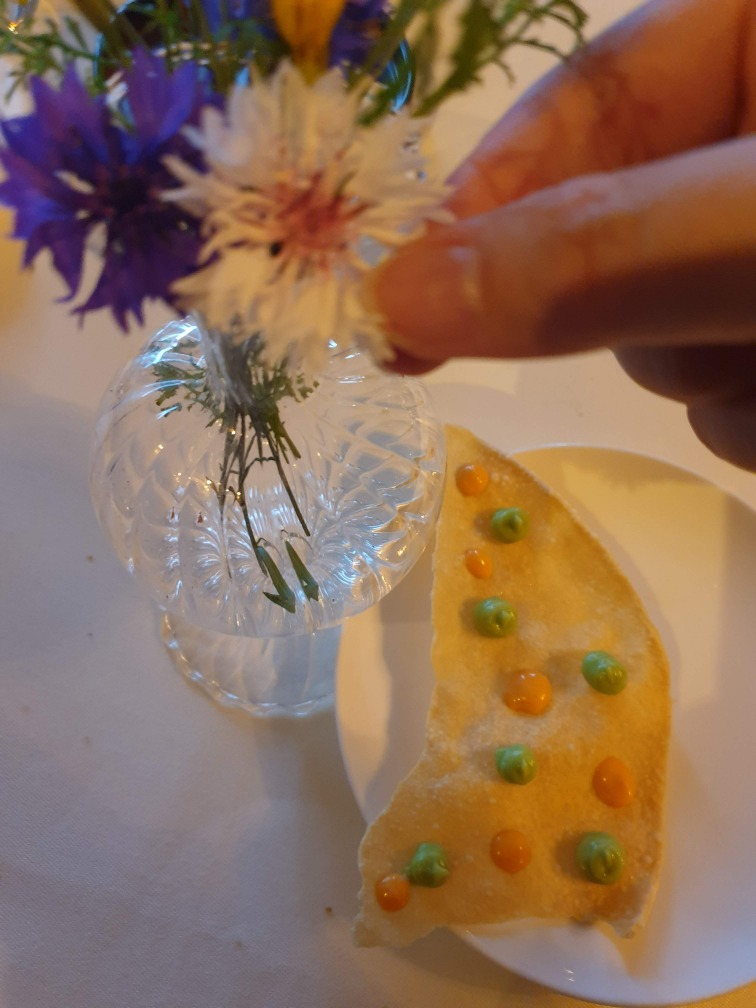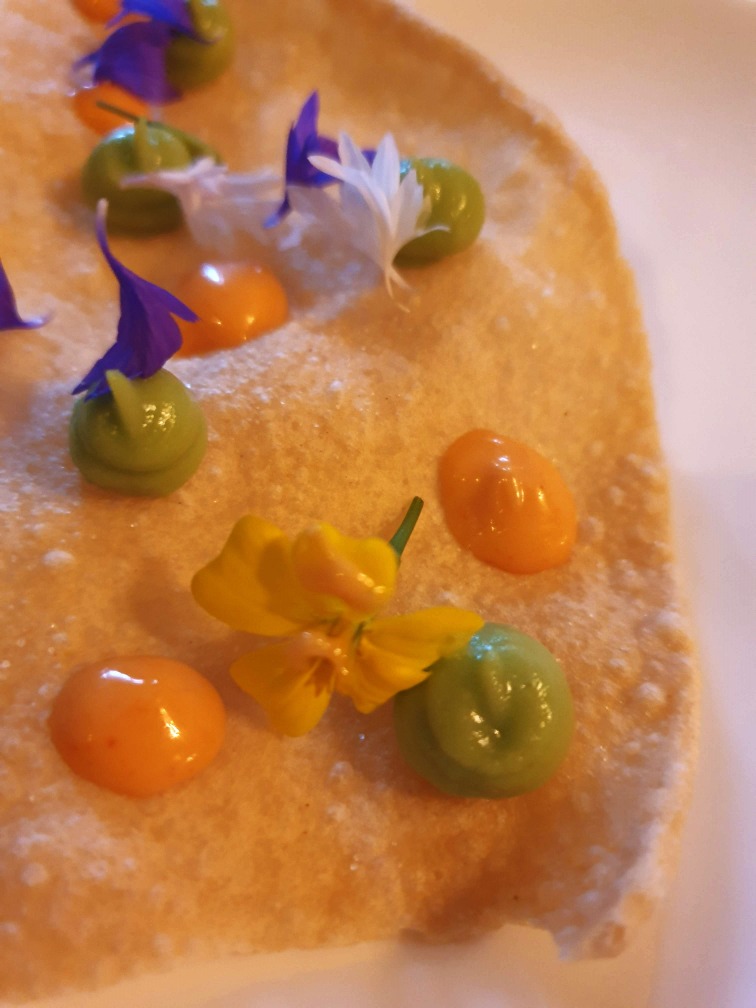 How many courses does this menu have?
We have lost count, how many courses does this menu have? "Oh, we're not done yet," the friendly waitress tells us. She tells us about the delicious dishes and matching wines and about how she ended up at Sky56. "I'm completely at home here," she said, and it shows, just like with maître sommelier Thijs.
The following dishes consist of carrot structures with langoustine or soubise, roe with the tastiest Jerusalem artichoke potatoes ever, a dish with mushrooms and another with pumpkin tartare.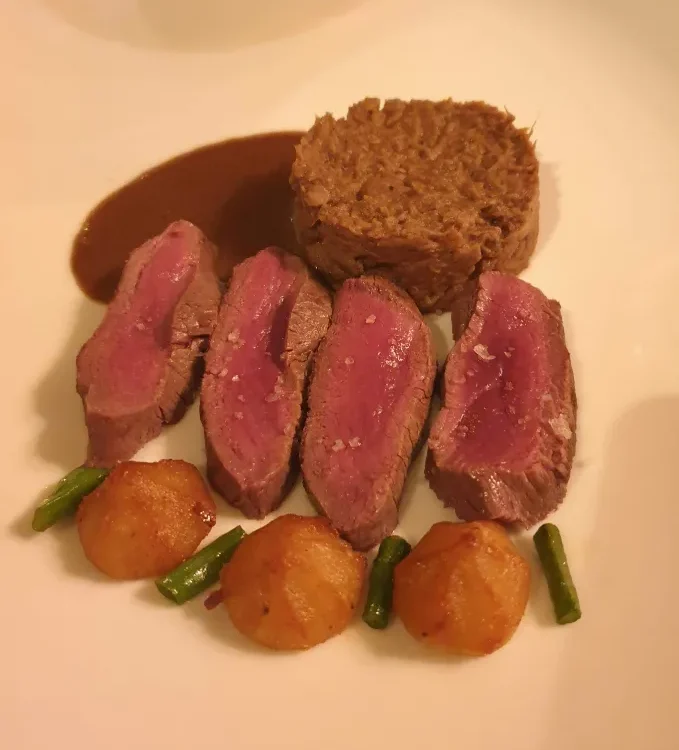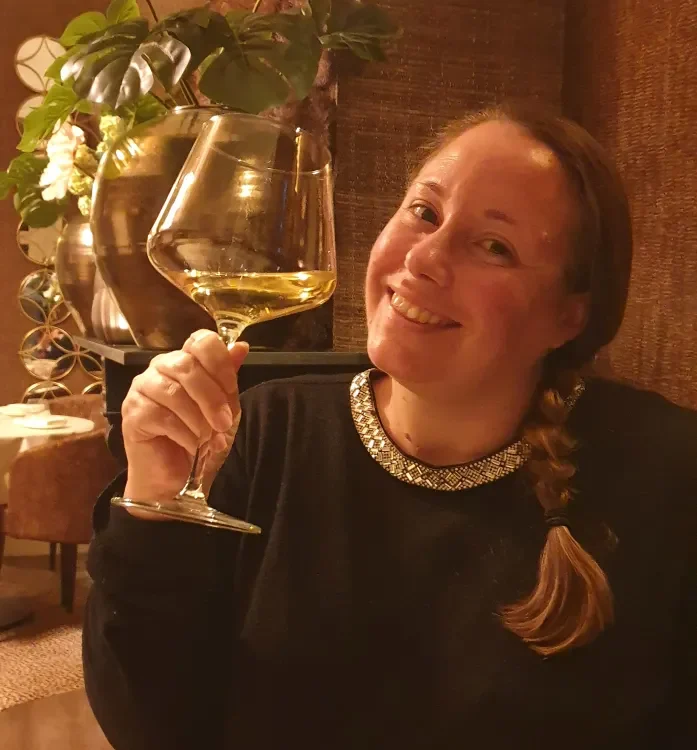 Time for dessert
Then it really is time for dessert. Again, the presentation is to pass through a ring. This dish with apricot and lime chocolate is a perfect ending to this wonderful evening. We ate enough and enjoyed the setting, the flavors, the experience and the entire fine dining experience. What a wonderful thing Sky56 is.
Besides that the dishes are the star of the evening, I must also mention that the good care of the staff is just as valuable. They really pampered us, so we had a fantastic culinary evening. We leave the building relaxed and a bit rosy. But not before I put my hand in the fireplace to find out what's going on with that flame. This one does not feel warm. "That's because of the hydrogen," says Thijs. Ohh.. so that's it! Then I know that again, and it won't wake me up tonight ;).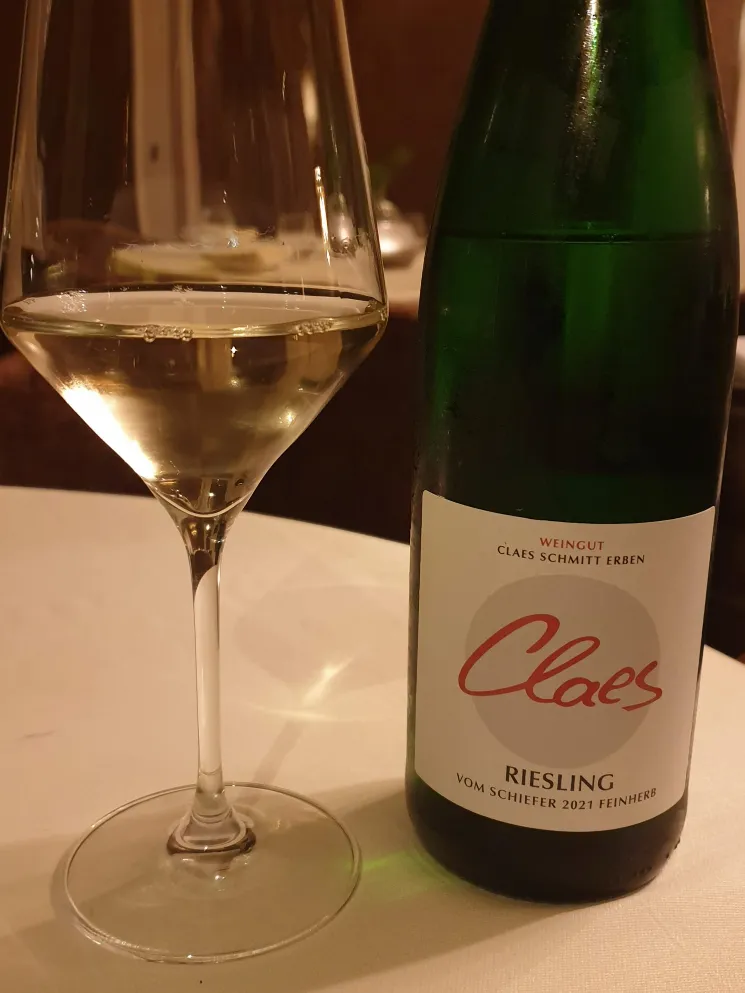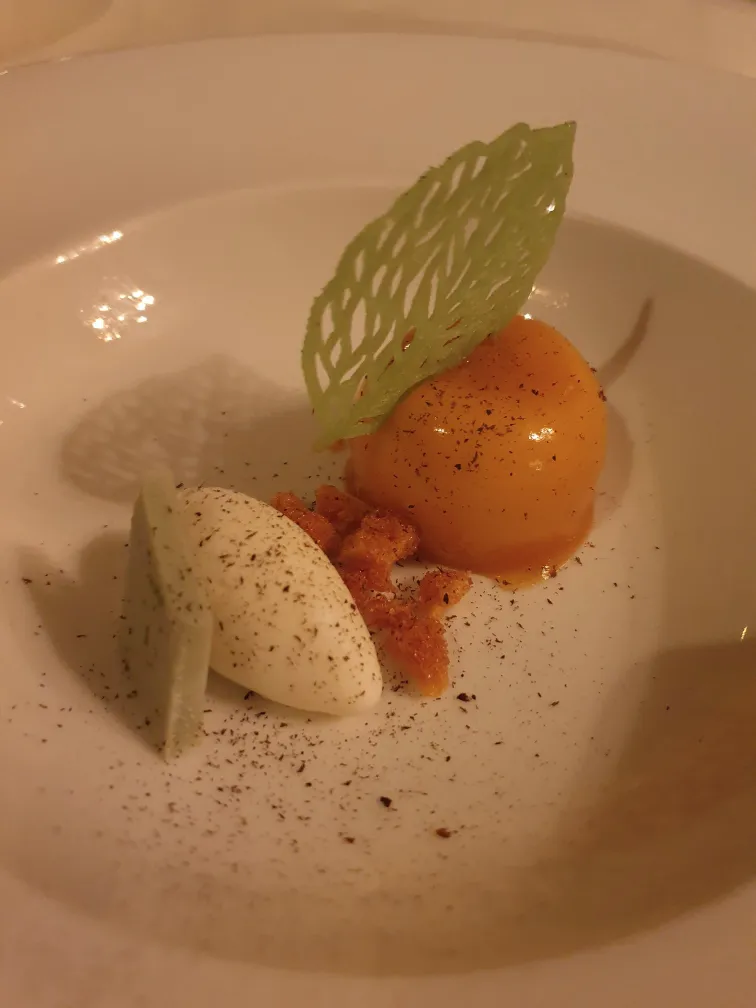 Click on a photo below for more blogs about Arnhem