Outfit Library LESS
As we passed by the shop with green and blue curtains our interest was sparked by the sign above the entrance: 'Outfit Library LESS'. A what? Library for clothes? Turns out, that is exactly what it is!
Read on and find out how to get a discount.
City Center Location in Arnhem
Outfit Library Less has an ideal city center location in Arnhem, just a 1 minute walk away from the Arnhem Central Station. The idea behind the concept of LESS is that all of us need less of something in our lives. Less noise. Less bias. Less judgement. Less worries. Less clutter. Less stress. Sharing economy and the minimalism movement are means to reach a balanced state of less. Nowadays when we are already sharing our homes, our cars, our tools and even our pets, more and more people play with the idea of sharing their clothes, too. It actually makes much more sense than buying a new dress for every party; or giving into the newest trends just to get bored of them two weeks later; or having an overstuffed wardrobe but still endlessly craving for more: something cute today, something sexy tomorrow, something hip for the weekend, something classy for the work trip.
And above all that, borrowing clothes makes 100% more sense than supporting the industry that exploits people on the one side of the world to produce clothes, makes people on the other side believe they are not worthy of love, respect and happiness without it, and compromises environmental health and safety globally.
Positive Body Image
LESS is decorated with beautiful photos of women of all sizes, shapes, ages and cultural backgrounds. This photo project is about a representation of women in the fashion industry and addresses the body image issues.
It features everyday women (no professional models) to show how beautiful and unique every woman is; how different a woman might look and feel in diverse circumstances and contexts; and how outfit choices help communicate their personalities to the world. These photos are also meant to illustrate that LESS has a great variety of outfits for lots of different ladies.
All the items in the library are divided into 7 different collections: Minimalist, Retro & Vintage, Boho, Artsy, Forever Young, Classy & Chic and Earthy & Natural, so 'They don't have my style' can't be used as an excuse to not give this concept a try! Also,  all collections are constantly renewed and updated, so there are always plenty of outfits (including shoes, bags, jewellery and accessories ) to choose from!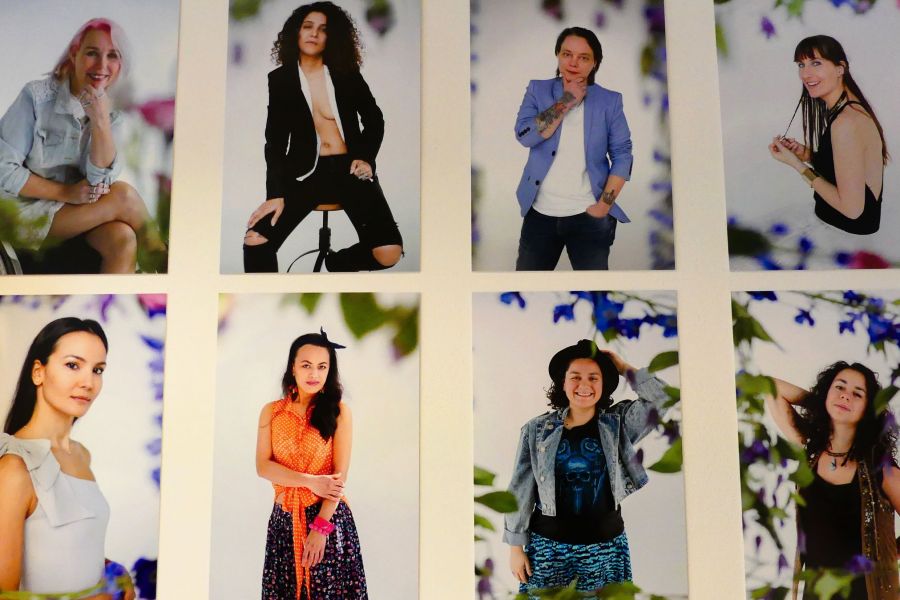 But… How Does It Work?
It works the same way as a regular book library does, with some extra options. For example: you can rent an item for 1 day (for a special occasion) for just €5,-. You'll pay a deposit (the price on the item, let's say €40,-). When you return the item the next day you'll get €35,- back. You can also choose to buy the item when you have fallen in love with it!
OR
You can get a subscription with Outfit Library LESS for €25,- per month and rent 3 items at a time, for as many days as you like! And as soon as you return those items, you can choose another 3 to borrow, so the access to the LESS collection is really unlimited for the subscribers. You will have a never-ending supply of clothing! Check the website for more detailed information on Subscription and Prices. – https://www.outfitlibraryless.nl/how-it-works/subscription-prices/ 
FACT: The average person in The Netherlands spends about €70,- per month on clothes. Now think about how much money you spend on clothes every month and how much money you can save!
Not only is Outfit Library LESS good for your financial state, but by renting clothes you will also contribute to a better world. These days it's easy to get clothes for a budget price that's easily dischargeable and that creates more waste. Outfit Library LESS is also a zero-waste business, which perfectly fits with their vision and mission. For example, instead of disposable plastic or paper bags there are textile tots available, made from upcycled t-shirts with eye-catching prints.
ArnhemLife DISCOUNT
Are you inspired and ready to visit Outfit Library LESS? Great! As a welcome gift you can now rent your 1st item for 1 day FOR FREE without paying the subscription fee, so your total ArnhemLife discount adds up to €15,- .
Mention ArnhemLife when you step in the library and Maria will show you her beautiful city wardrobe and make sure you'll leave with a nice item to wear. This discount is available until September 30th, 2018.
Oh, there is also an upcoming event at Outfit Library LESS on August 26, 2018: a clothing 'SWAP! party where you can exchange your unwanted outfit items for the garments that you definitely want or need. More info can be found here: https://www.facebook.com/events/215351315806150/
Outfit Library LESS opening hours: Wed/Sun 12pm – 6pm
Follow Outfit Library LESS on: