ArnhemLife Travelblog: Edinburgh
Since about 3 years I'm able to travel more often and by more often I mean as often as I can! In this edition of the ArrnhemLife travelblog, I'll take you with me on my recent trip to Edinburgh, United Kingdom.
Travelling to Schiphol Airport
Travelling from Arnhem to Schiphol Airport is just as long as the flight to Edinburgh. In 1:15 hours you are in Amsterdam when you are lucky this is. Trains to Schiphol Airport depart every 15 minutes and a single ticket costs €17,50 (with discount €10,40). Always make sure you add an extra hour train travels when you head to Schiphol Airport. There is often a delay and stressing to catch a flight is never a fun thing…
I can tell you this from experience! I planned to be on the Arnhem railway station at 9am while my fight was 1.10pm. So, plenty of time in case of any delay! I also planned to get up at 08.45am but the dots didn't connect that I would never be at the railway station at 9am. I only noticed this when I saw the clock. It was 10am. WHAT!?? "Ok, no worries, I still have plenty of time," I told myself.
The train had no delays so by 11:11 o'clock I rolled into Schiphol railway station. The gate closes at 12:20pm so I will have to hurry a little. All went well until I got to the passport control. The line was LONG! This had to do with the "meivakantie" (school holiday) and the malfunction of more than half of the control gates. I'm starting to get really worried now. Could it be that the girl who is always on time will miss her flight??!!
After shuffling through the line I did manage to get to the gate just in time, to find out that the flight had a 20-minute delay. Oh well…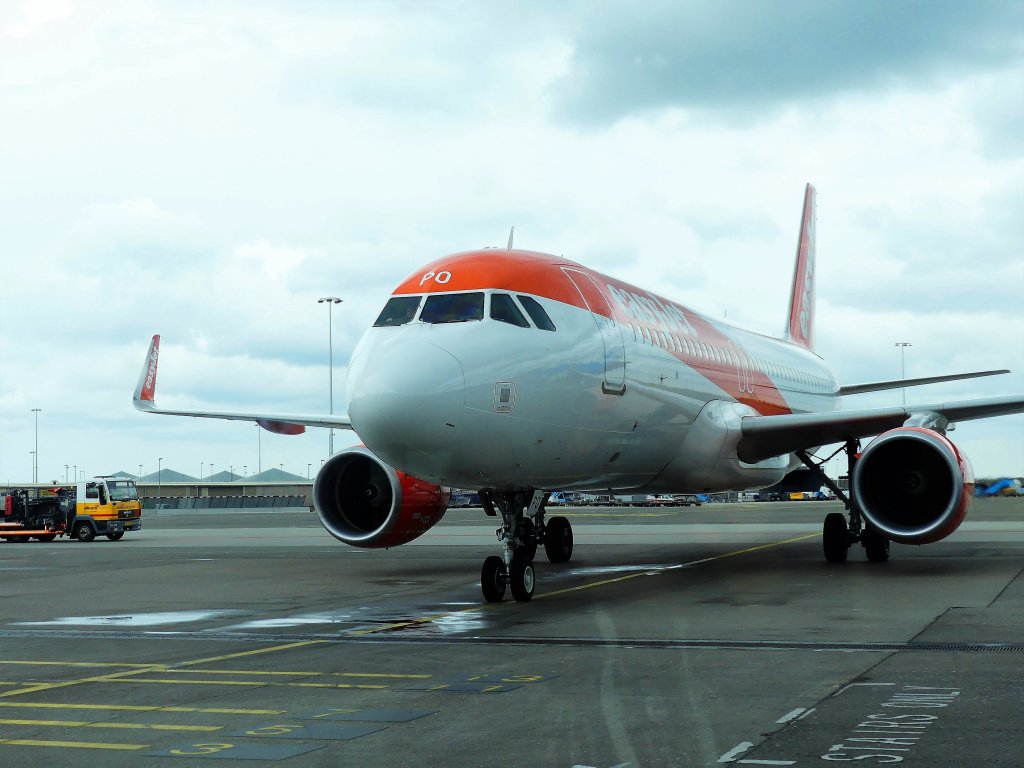 The flight went smooth and since Edinburgh Airport isn't too big, you are out of there in no time. I hopped on the 1st bus I saw and hopped back out as the driver told me I needed precise cash money to pay for the bus. Ok, I needed to change my 5 pound bill first before heading to Edinburgh Center. Luckily some people who were waiting could help me out.
This bus took about 1 hour to get to the centre and cost 1p60, which is very reasonable! All buses cost this much for a one-way drive. You can also buy a 4 pound ticket and have free bus travels for the rest of the day. On the way back to the airport 4 days later I took a different bus, one that took only 30 minutes to get there but cost 4p50.
I wasn't sure where to get off but the kind driver gave me a signal when it was time. Not all busses in Edinburgh mention the next stop so it's best to ask the driver to signal you or find a seat next to a "non-tourist looking person" who can help you find the right bus stop.
After getting off the bus really close to where my AirBNB was (this is not planned, but a welcome coincidence!) I met the lovely host Gabrielle, inspected my room (just like the pictures so no disappointment there) and dropped off my suitcase. In no time I was outside again to explore the city.
Hungry from my travels I needed some food first. Not far from Gabrielle`s house, I found a nice looking bar. At the "Theater Royal Bar" I ate a lovely burger and had a Tennent's beer while investigating the city map Gabrielle gave me. I have a very poor sense of direction so I don't feel comfortable without a map on me. I always download Google Maps on my phone before heading abroad (TIP! You can download it in the Apple or Android store and use it without internet access when downloaded) but after a day on the road, my phone battery was dead.
1st on my list, since it was near the Airbnb: Calton Hill. The 360-degree view on this little hill is beautiful and it is home to many monuments. A slightly higher hill is not too far away and the nr. 1 attraction in Edinburgh: Arthur's Seat. I decided right there after my climb to Calton Hill that I would probably not have enough time on my 5 days stay in Edinburgh to climb the Arthur's Seat mountain…
The 2nd day in Edinburgh was all about walking and sightseeing. At 10am I was ready for my 1st guided city tour and I wasn't alone. Together with about 60 other people, we waited for our guide. As an Arnhem tour guide myself, this number of people showing up for a city tour made me quite jealous! The group got split in two and our guide Jen (Sandeman's Free Tour) showed us Edinburgh in 3 hours. It was great! She told us about the history of the Royal Mile (it's neither "Royal" nor is it a "Mile" anymore…) and shared great stories about historic buildings we passed. At the end of this "free tour", you can give the guide a fee, whatever you thought the tour was worth.
I love going to the cinema and being able to visit a movie's location gets me very excited. That's why I visited Rosslyn Chapel. The beautiful little chapel (1446) is famous for its rich carvings and attracts about 110.000 people each year. The number increased because of the Dan Brown "The DaVinci Code" novel (2003) and later the "The DaVinci Code" movie (2007) starring Tom Hanks.
You can get to Rosslyn Chapel easily by bus (again 1p60 for one way), it takes about 1 hour to get there.
Free Ghost Tour Edinburgh
After I got back from Rosslyn Chapel I grabbed a quick bite and made my way back to the Royal Mile for my next guided city tour. When in Edinburgh, you can't go without a "Ghost Tour"! Our guide Ben (Free Ghost Tour) told us about the city as it used to be as filthy as one can imagine. There was even a "poop river"! The story of Maggie Dickson is also one to remember but I won't be a spoiler: a guide like Ben can surely tell the tale better than I can. (BONUS: Native English Ben spoke Dutch quite well! You don't hear a non Dutch person speaking Dutch abroad very often.)
North Berwick by the Sea
My 3rd day in Scotland promises to be a sunny one. That's why I decide to visit a nearby town, preferably a coastal one. My hostess Gabrielle advised me to visit North Berwick, so that's what I did. It's easy to reach by train and only costs about 3p50 to get there. The train ride there was a beautiful, good thing I packed my shades and some suncream! I also love the fact that every seat on a train has it's own power point and the train has wifi so don't forget to bring your phone charger. I gave my friends at home a sunny sneak peek to whereabouts I was going and it didn't even cost me any battery!
The beach at North Berwick is beautiful and the town is as nice as a coastal town can be. There is a seabird centre near the harbour, a coastal golf resort, mountain "The Law" (quite an intimidating name!) and you can visit nearby Tantallon Castle. I wanted to go to the castle but just missed the bus by a few minutes and it only came once an hour… So after lunch and a drink at Qualitystreet, I head back to the railway station, only to find out I had to wait 40 minutes till the next train. Since the weather was lovely and there was nothing I could do about it I made the most of it by sitting in the sun and sorting out some photos. ( It still amazes me that I took 400 photographs in 3 days. I tried to be so selective!)
Best of Scotland in One Day – Tour
Making the most of my stay in Scotland I booked a day tour via Tripadvisor. After comparing many of the day tours that are available I decided to go for the one that offered a small bus (max 16 people) instead of a big touring car. Many of the other day tours depart at 08:30am and this one at 09:00am, which fit into my lifestyle a little better.
Tour guide Niall was happy everyone was on time and he told us about the stops for the upcoming day. With the weather being extremely sunny (we even encountered a forest fire!) the whole bus was looking forward to a wonderful day.
We saw so much that day! Starting with the Forth Bridge we made our way to Dunkeld Cathedral, Blair Castle and stunning Queen's View. I was looking forward to meeting some longhaired Highland Cows but unfortunately, I didn't see any of those.
After a long day soaking up information and beautiful sights, we arrived back in Edinburgh about 7pm. Since the weather was so nice with blue skies and now and then a cloud I decided to walk up Calton Hill one more time. Sunset was at about 9pm so there was plenty of time to get some dinner at Howies on the foot of the hill. The food there is really good. It feels like fine dining (to me) but the price is actually very reasonable! I even tried some haggis and quite liked it actually!
Return to Calton Hill
When I finished my cheese platter dessert I went up Calton Hill for the second time. The view was so much more beautiful without a grumpy grey sky! I took some stunning photographs here and am happy I went back to try again. I didn't see the sunset tough, as I was cold and tired and ready to get back to the cosy AirBnB down the hill.
Not Ready to Leave Edinburgh
My last day in Edinburgh is here. I already know that I will have to return soon since there are many things I did not see or do. Like, visit the Edinburgh Castle, hike to Arthur's Seat, see the Edinburgh Dungeons, travel to Loch Ness… Just to name a few things.
The search for budget airline tickets starts NOW!
Blog and photo by Petra Dielman.
Visit Edinburgh in Scotland, but Arnhem in the Netherlands as well!
If you plan your holiday in the Netherlands, then Amsterdam needs to be on your list for sure. It has a rich history, beautiful architecture en a lot of friendly people will make your day a happy one!
But… Amsterdam is extremely overflowed with tourists and, thus Dutch people say, that it is not representing the Dutch culture in as a whole. So, in order to really experience the Dutch lifestyle and culture, you should visit another city of the Netherlands as well – what about Arnhem?
The city of Arnhem is a really good tourist destination as well! It is just 1 hour and 10min away from Amsterdam, which makes it an awesome day trip to see more of the Netherlands. Moreover, the city is not overrun by tourists! The city is known for being the green capital of Gelderland with for example the Nationaal Park 'De Hoge Veluwe'. Besides, the city is known for its importance in the Operation Market Garden in WW2, which is shown in the movie 'A bridge too far'. In 2019 there are a lot of special events due to its 75 years of remembering the Battle of Arnhem.
You can easily inform yourself via our tourism blog as well as our history blog.