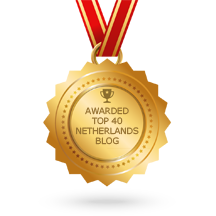 Amsterdam In One Day
Only visiting the Netherlands for a short period of time? Read 'Amsterdam In One Day' and find out how to make the most of your time in the Netherlands' capital Amsterdam.
Rijksmuseum Amsterdam
One of the top locations in Amsterdam is the Rijksmuseum, near the Museumplein. The museum opened in 1800 although in The Hague. In 1885 the museum moved to its current location, designed by architect Pierre Cuypers. The architect is also responsible for the Amsterdam Central Railway Station that opened in 1889.
The Rijksmuseum is home to many famous paintings such as the Night Watch by Rembrandt, the Milkmaid by Vermeer and Winter Landscape with Ice Skaters by Averkamp.
Buy your Rijksmuseum ticket online for a 1 euro discount. Make sure you take enough time to explore the beautiful building and it's masterpieces inside. Inside the building, there is also a restaurant (RIJKS®) that serves good coffee and has a special menu.
'The Rijksmuseum tells the story of the Netherlands. The restaurant also see the influences from far and near foreign countries. In RIJKS® we continue the line of the Rijksmuseum: quality, authenticity, uniqueness, translated into the kitchen, the chefs, the interior and the location. RIJKS® is the Rijksmuseum on your plate.'
NOTE: The iconic 'I AMsterdam' letters that stood in front of the Rijksmuseum have recently been removed. This because it drew too many people to the Museumplein. You can still find the letters at Schiphol Airport.
Lunch At The Avocado Show In Amsterdam
All this sightseeing makes for a good appetite. Before you know it, its time for lunch! While on holiday, lunch for me is an extra treat, not just a moment to eat food. That's why I always try to find a special location, maybe one where I can try something new or at least something that's not standard.
After following the Avocado Show on Instagram, and telling my friend about it, we knew we had to check it out for ourselves. The photos on Instagram are just so inviting, mouthwatering even!
We really liked our avocado dishes and plan to go back to try something else on their menu.
Because of its popularity, there might be a queue outside. Check at the restaurant by phone or PM for availability before you head to the Daniël Stalpertstraat 61 to prevent disappointment if they don't have a seat left for you.
Albert Cuyp Markt Amsterdam
It's always nice to visit a local market while visiting a city abroad. In Amsterdam, this will have to be the Albert Cuyp Markt.
Fresh vegetables, fruit, fish, flowers, and plants: you'll all find them at the Albert Cuyp. And also gorgeous fabrics, trendy clothing, textile, nice leather goods, and jewellery.
Enjoy a nice herring at the fish stand or get yourself a bag of fresh syrup waffles to enjoy at home. Visit a nice, old-fashioned coffee house or a super modern café for a cup of coffee. The statue of André Hazes can be found on the corner of the Eerste Sweelinckstraat.
With 260 stands, the Albert Cuyp is the largest day market in Europe. A place where there's always something new to see!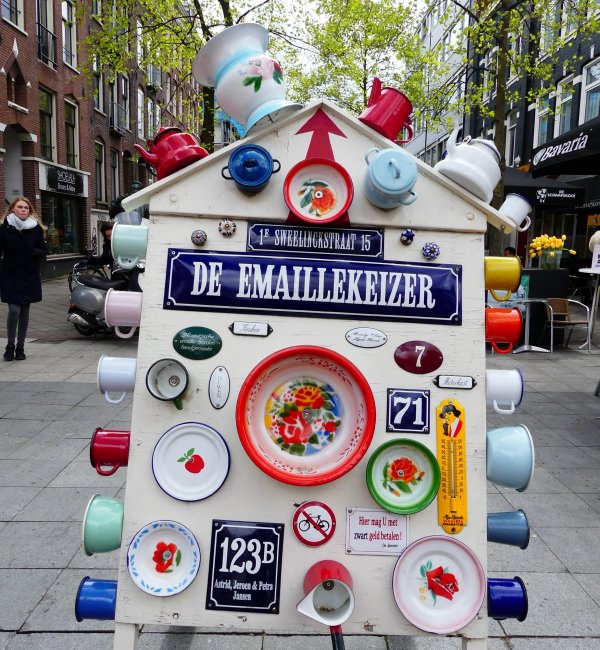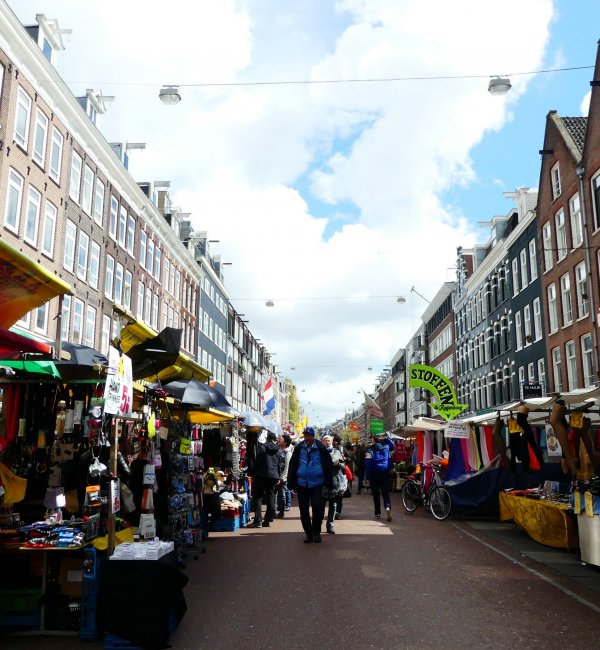 Public Transport in Amsterdam
If you're using public transport in Amsterdam and beyond, the public transport chip card (OV-chipkaart) is used for travel on trams, buses and metros. The most convenient option for visitors is a disposable one-hour card or day card (valid for one to seven days). One-hour tickets can be bought from the conductor or driver on the tram or bus. Day tickets can be bought on the tram or purchased in advance.  Day cards cannot be bought from the driver on the bus. Tickets are valid across the whole network from the first use, allowing you to take as many journeys as you choose within your chosen time-frame.
NOTE: Amsterdam is working towards making public transport completely cashless. Tickets can only be purchased using debit or credit as of 26 March 2018. Cash is no longer accepted on buses and trams.
Bike Rental in Amsterdam
When in the Netherlands, you'll see that bikes are an important way to get around. Rain or shine, it does not matter! Us Dutchies will use bikes to taxi our kids to school, take a week's worth of groceries home from the store or even transport items like tables or matrasses if we have to.
Most Dutch people even have two bikes. One for everyday use, for example, to park at the railway station (not the end of the world if it gets stolen) and one expensive bike for tours across the Dutch landscape. A second-hand bike can easily be bought at the www.marktplaats.nl, type in the word 'fiets' (Dutch for bike) and start comparing prices.
Renting a bike in Amsterdam is easy! At almost every street you'll find a bike rental shop. Do be careful, Amsterdam is a dangerous place for bikers. Personally, I do not recommend tourists to rent a bike. You want to be able to look around, soak up Amsterdam and not worry you get hit by the following: other bikers, locals who don't care for tourists, cars, scooters, buses or even trams!
So, the best way to get around in Amsterdam is by taking the trams. They are easy to find, affordable and safe.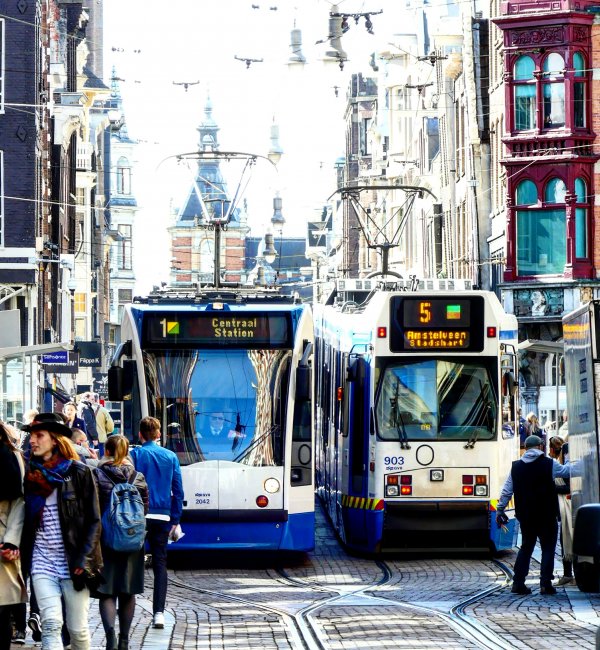 Local Beer Brewery in Amsterdam
You can not miss this local brewery, located at Zeeburgerpad 55, it's attached to a windmill! Although you can buy beer from the brewery 'T IJ all over the Netherlands, it tastes the best at their home.  The brewery also doubles as a bar and they have an amazing selection of beers.
Every Friday, Saturday and Sunday at 3:15pm you can even take a guided tour of the brewery. The price is €6,50 and this includes a beer. Make sure you're at 'Brouwerij 'T IJ' on time. There is only room for 20 people to attend the tour and you can not reserve a spot.
Visit Amsterdam, but Arnhem as well!
If you plan your holiday in the Netherlands, then Amsterdam needs to be on your list for sure. It has a rich history, beautiful architecture en a lot of friendly people will make your day a happy one!
But… Amsterdam is extremely overflowed with tourists and, thus Dutch people say, that it is not representing the Dutch culture in as a whole. So, in order to really experience the Dutch lifestyle and culture, you should visit another city of the Netherlands as well – what about Arnhem?
The city of Arnhem is a really good tourist destination as well! It is just 1 hour and 10min away from Amsterdam, which makes it an awesome day trip to see more of the Netherlands. Moreover, the city is not overrun by tourists! The city is known for being the green capital of Gelderland with for example the Nationaal Park 'De Hoge Veluwe'. Besides, the city is known for its importance in the Operation Market Garden in WW2, which is shown in the movie 'A bridge too far'. In 2019 there are a lot of special events due to its 75 years of remembering the Battle of Arnhem.
You can easily inform yourself via our tourism blog as well as our history blog.
Explore Arnhem with ArnhemLife tours: