Brussels in 3 Days
One of my favourite hobbies is taking a city tip, preferably a 5-day stay at any city in Europe (because of my budget not outside of Europe). I scan the internet for cheap tickets or spontaneously book a good deal when I come across one. I follow a few Facebook pages like Paperflies and Vakantiepiraten that sometimes offer great deals and this makes it hard for me to resist not booking tickets.
Like last year. In April I bought a return flight ticket Brussels // Belgium – Timisoara // Romania for €6. Let me say that again: €6 for a RETURN ticket Brussels – Timisoara. The ticket was for December 2017 and since I have never been to Brussels or Timisoara (had to look up where that was) I quickly bought the ticket. My financial state in November would decide if I would go or not.
Mini Europe Trip
November came and I did manage to find some budget for my mini Europe trip! Yay! Time to start planning and looking into the ticket that I bought. The flight was from Brussels – Charleroi Airport and I quickly figured out that it's not so near to Brussels actually. Us Dutch are spoiled with everything being nearby in our tiny country that I always forget that this is not the norm. Flying to London means you still have to travel about 1 hour to London, and so was the case with the Brussels to Charleroi Airport connection.
First things first: How do I get to Brussels on a budget? By train? This would be an option. It takes a little over 3 hours to get there and one-way costs between €40 and €75. Hmm so much for my budget holiday!
Flixbus Stop In Arnhem
Lucky for me there is an alternative that fits my definition of 'budget' perfectly! There is a Flixbus stop 5 minutes from my home at the Sonsbeekzijde of Arnhem Central Station and it drives direct – with a few stops – to Brussels! The return ticket cost me €22 and it took about 4 hours to get to my destination. Flixbus drives to 1400 travel destinations in 26 countries so the options on where to go are almost limitless.
After booking a lovely Airbnb in Brussels and Romania I looked for things to do in Timisoara. Since it's not the biggest town, sort of the same size as Arnhem, I decided that I should look elsewhere to fill my 7 days stay in Romania. Why not visit neighbour Hungary? I've also never been there so it's a great opportunity to cross it off my list.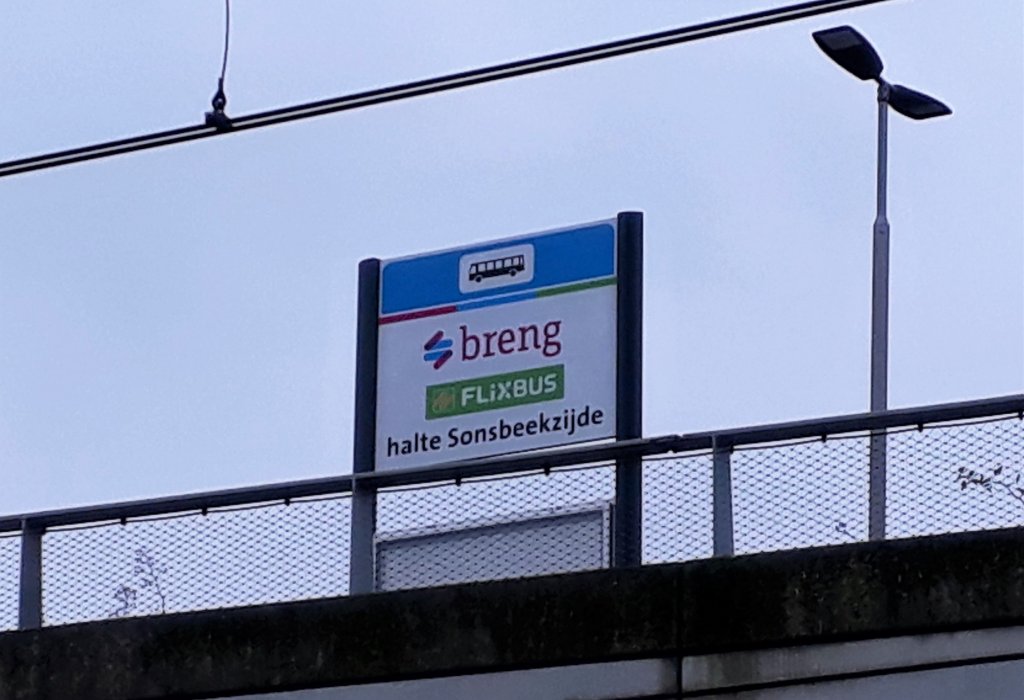 Arnhem – Brussels – Timisoara – Szeged and Back
After some investigating of my options I decided to pay Szeged a visit. The city, not the festival. I had everything figured out, bus transfers, Airbnb's, exchanged my money (apparently they don't have euros in Romania and Hungry, my bad…) and told everyone about by €6 return flight ticket. It was the purchase of the year for me!
Brussels, Day 1
I arrived in a grey and cloudy Brussels, Belgium's capital city and capital of the European Union's government.
Day 1 would be about finding my Airbnb, making a plan on crossing of 'must see' items on my list and finding a cute lunchroom to still my appetite. Instantly I noticed all the murals. They are everywhere! Brussels is known for its comics and is home to Tintin and the Smurfs, just to name a few.
I don't like to take public transport while I'm in another country sightseeing in a city and will avoid it if I have to. Before I've figured out where to go and at what stop a bus or train comes I'm stressed out and cranky. I'd rather just put the destination location in Google Maps on my phone and walk there. With the free roaming in Europe now it's a great tool to use.
My first 'must see' was the Atomium. This landmark building was originally constructed for the 1958 Brussels World's Fair. It is located on the Heysel Plateau, where the exhibition took place. It is now a museum but because of my small travel budget, I just admired the iconic building from the outside.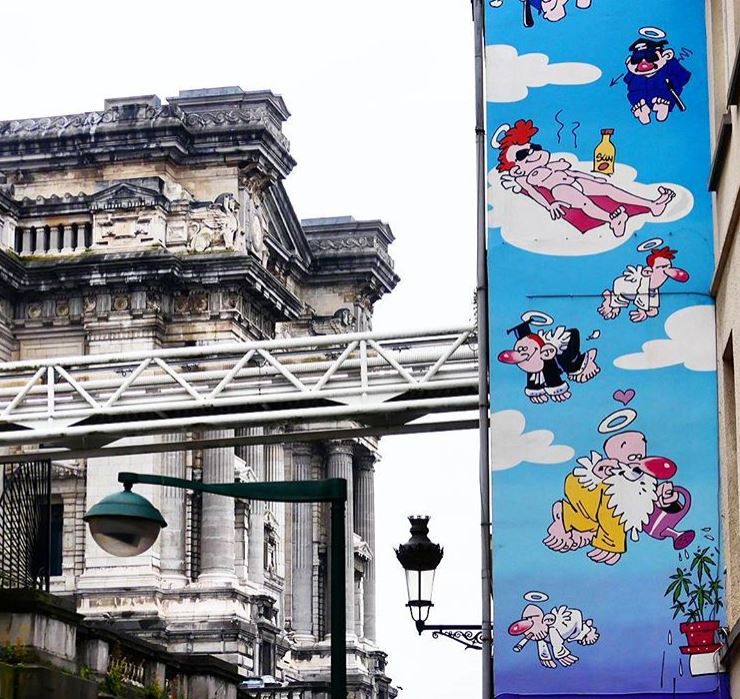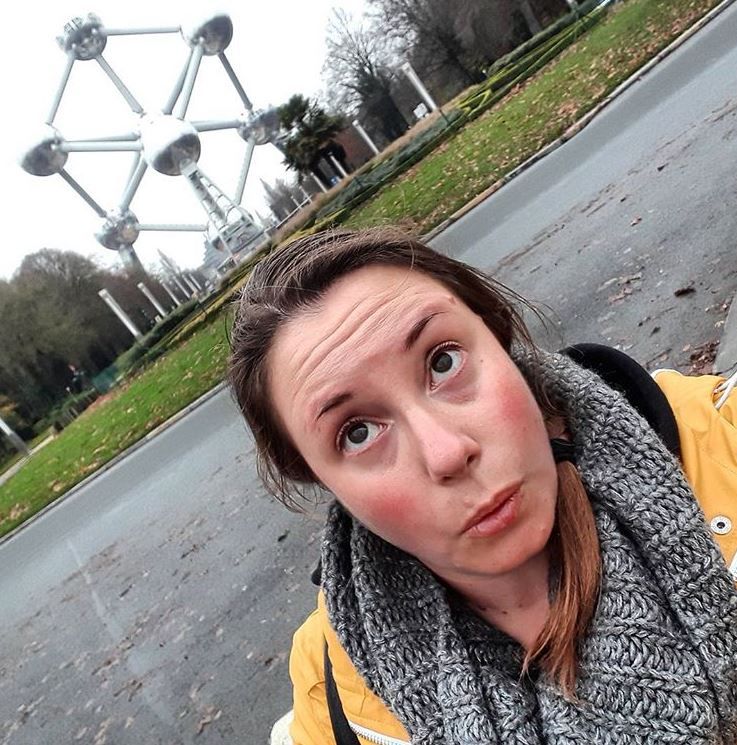 Where are the Lunchrooms in Brussels?
It took me 1 hour walking to get to the Atomium and figured I'd find a nice lunchroom on my way. I was wrong… I did see a lot (I mean A LOT) of kebab shops but they didn't feel inviting stepping into. The same goes for the cafes. Almost all of them had the windows covered so I couldn't see inside and again this didn't feel very inviting to me. So I just kept on walking and ate a sandwich at the Atomium.
On my way back to the centre of Brussels, I looked on my map to see if there were any other locations I should take a look at. This is how I ended up at the Osseghem Park Laeken, the Leopold I Monument and the Castle of Laeken. I would never have seen these places if I had taken the bus.
Having travelled many hours to Brussels and walking 16km (It has to do with not taking the bus) I was done for the day. I picked up some healthy salads at EXKi Bolivar next to the Gare du Nord railway station and headed to my cosy Airbnb for a hot shower and well-needed rest.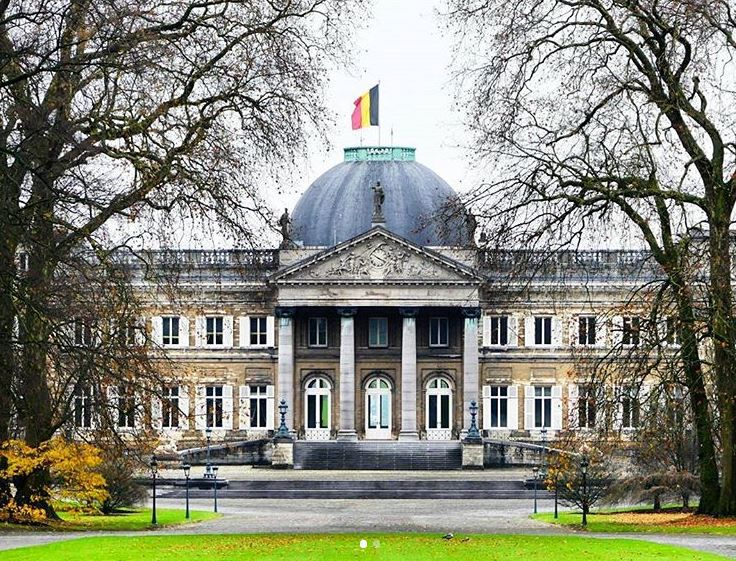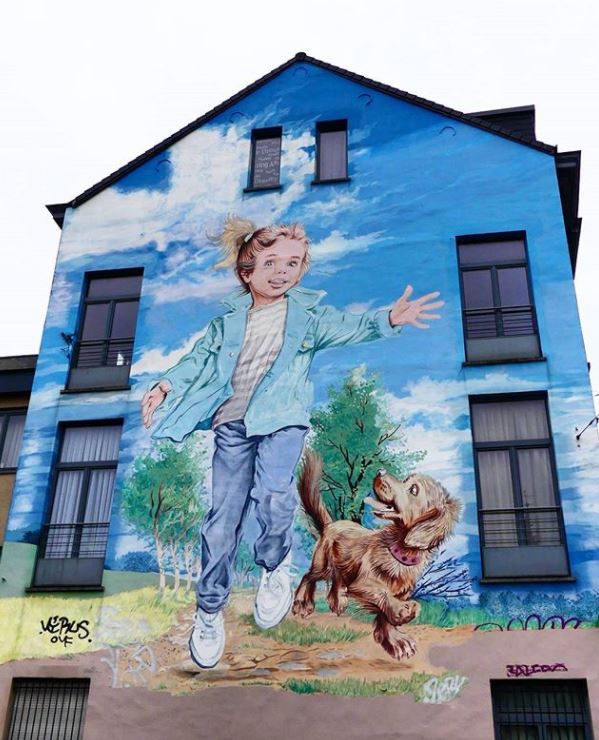 Brussels, Day 2
My goal for day 2 in Brussels s to cross all the sightseeing 'musts' of my list. I found a free walking tour on Tripadvisor and had a few hours to spare before the tour would start.
On my way to the city centre, what turned out to be one long straight road, I found a few cool murals and I'm sure I passed even more without noticing them. High on my list was a visit to 'Manneken Pis', a little bronze statue of a young boy who is taking… well… A piss. On many occasions, he is dressed and when I was in Brussels he wore a fireman costume. The origin of the statue that was put in place around 1618 is unclear, as the tour guide told me later but it's one of the biggest (and smallest with 61cm tall) attraction in Brussels.
Nearby you can also find a girl version of 'Manneken Pis' called 'Jeanneke Pis' (1987). She is only about 50cm tall, happily squatting while taking a pee. Jeannekes location is at a dead end street, next to the Delerium Café, a great place to try one of the many beers available in Brussels.
I'm not sure what it is about children peeing that the people from Brussels like, but it does intrigue me. You can add another addition to the collection by finding 'Het Zinneke'.
The peeing dog statue was placed there in 1998 and is a play on 'Manneken Pis' and 'Jeanneke Pis'. The dog was hit by a car in 2015 and restored by the original artist Tom Frantzen.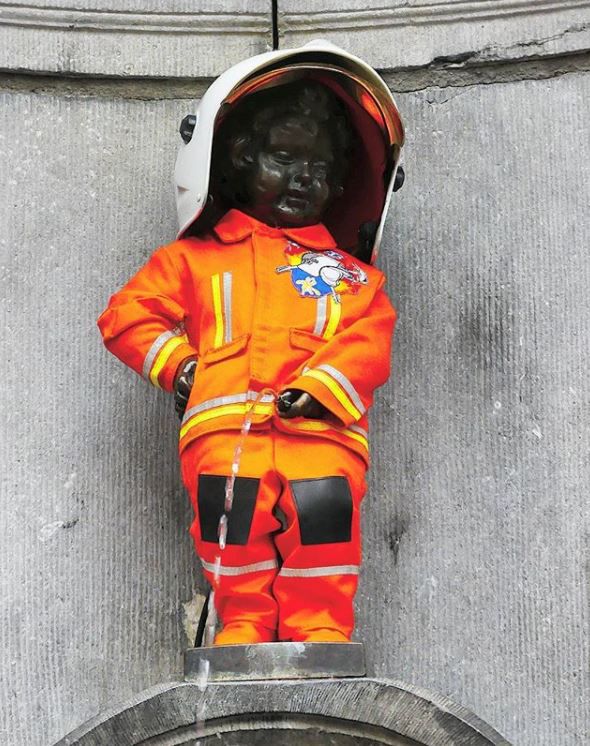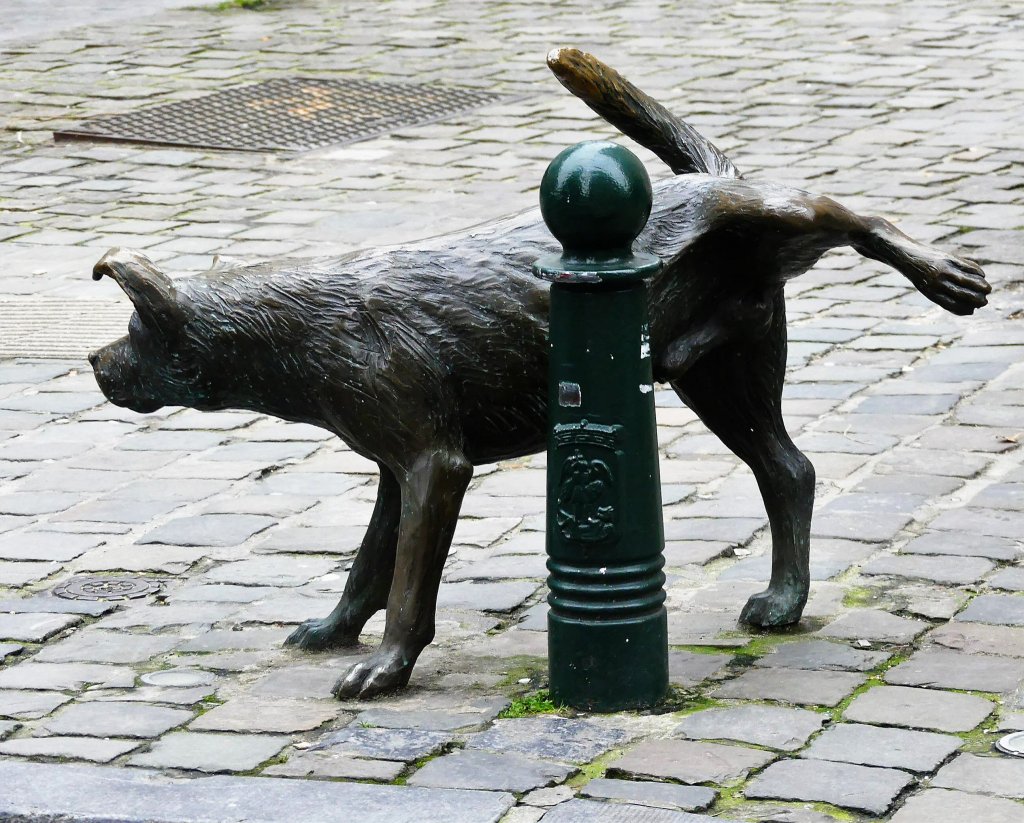 Free City Tour in Brussels
I met up with the tour guide of the Sandeman tour in the old city centre, the Grand Place.
This square has so much history to it with many guild buildings that date back to the 18th century, the Town Hall and Kings House. The square is placed on the Unesco World Heritage list in 1998 and can be very crowded during weekends. Most of the tours in Brussel start from this square.
My free Sandemans tour (Sandeman provides tours in many cities. They are free but it's common that at the end of the tour you give the tour guide some money as 'thank you') wasn't a success. Not too long after departing we stopped at a chocolate shop where people could get chocolate with discount. I didn't want any and therefore was waiting for about 20 minutes until we continued. 10 minutes later we stopped at a pub for a 20-minute break.
Also, not what I wanted, I wanted to go sightseeing! I parted way with the tour guide and the group and decided I'd rather go sightseeing by myself.
At the tourist information at the Grand Place, I bought a small map of Brussels for €1, a special map for all the murals around. On this map, you can find the location and background of over 40 comic book murals. It's a really fun way to explore the city on a budget. Just type the street name of the mural in on Google Maps and follow the navigation!
I found about 15 before it started to get dark so I need to go back to Brussels soon to find the other ones on the map.
Feeling tired and hungry I went back to my Airbnb. The host was surprised I was back 'early' at 7 pm and that I wouldn't go out at night but after another 16 km of walking, I didn't have any interest to do so.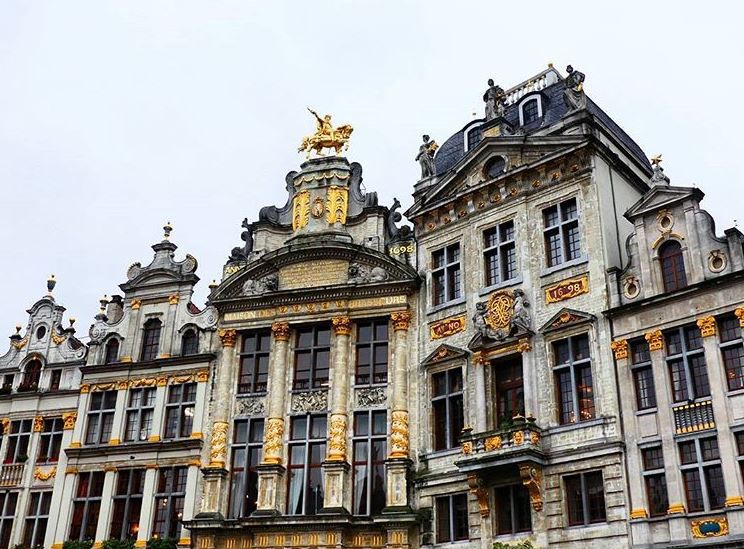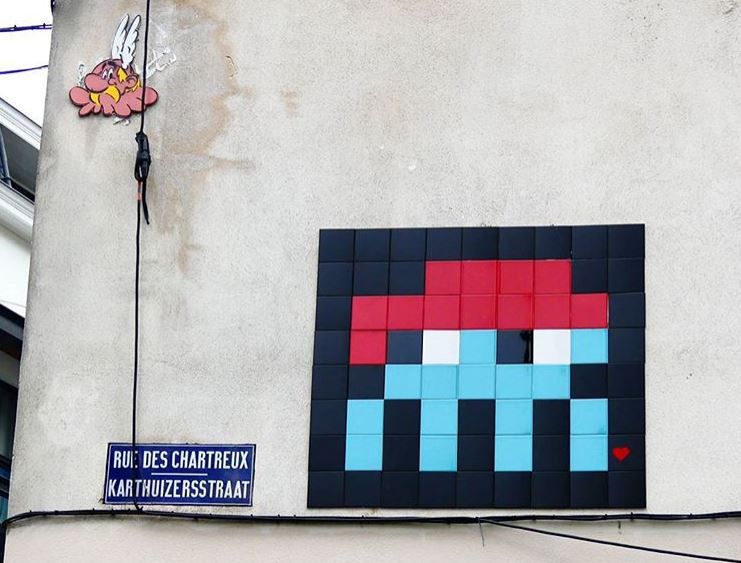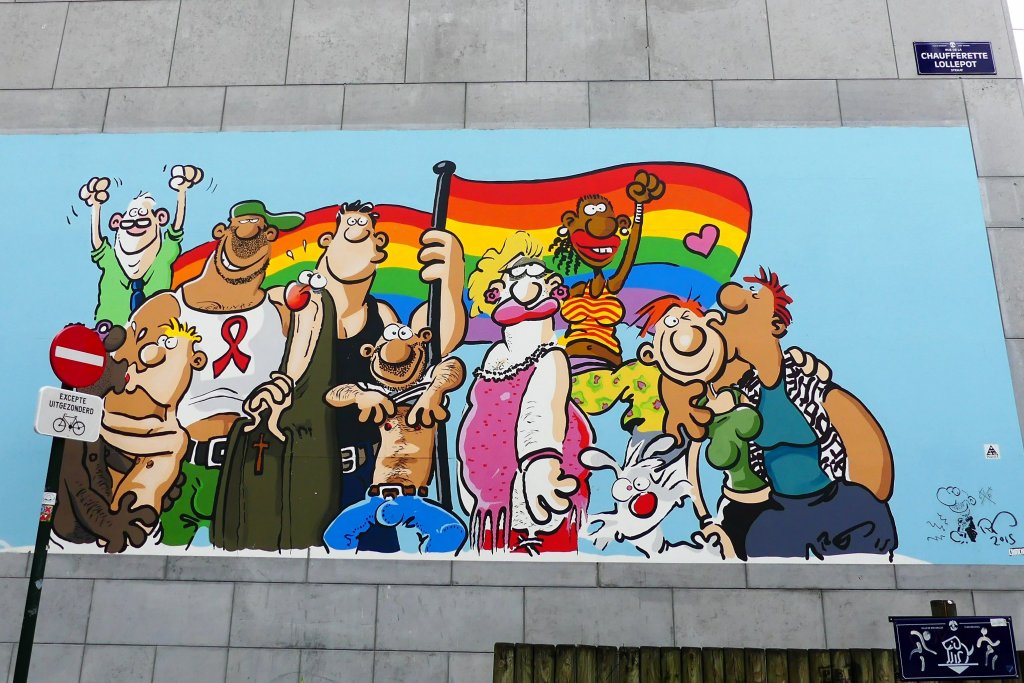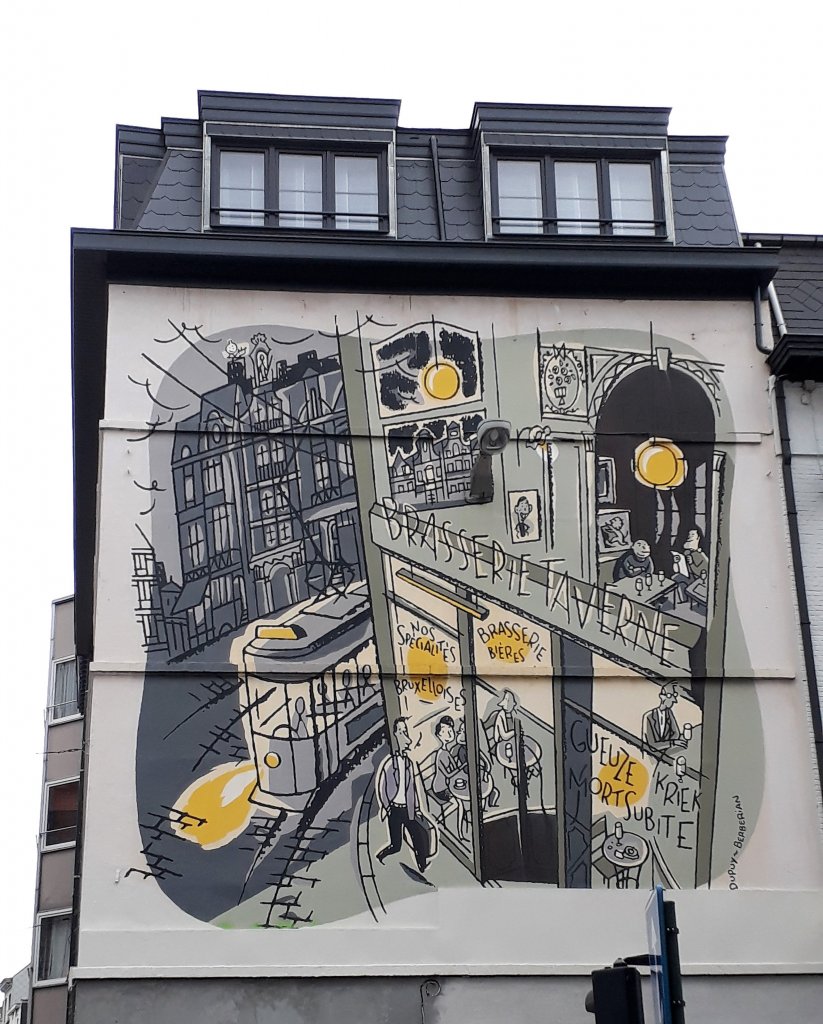 Brussels, Day 3
My last day in Brussels, this day I would catch my flight to Romania and continue my mini Europe tour. Unfortunately, that didn't happen…
I am the most punctual person I know but somehow I managed to miss my flight!!
Somehow I miscalculated my time actually thinking I had plenty of time. My flight would depart at noon and the gate would close at 11:30 am. I arrived at the bus stop at 10 am but the next bus would leave for the airport at 10:30 and it sure was a 1-hour drive. I had already bought my bus transfer ticket. Only when I arrived at the bus and saw the time (10:15) I realised that I probably wouldn't make it! This being a budget holiday I didn't want to take a cab with the risk of still missing my flight so I decided to let it go. My return ticket was only €6 so no loss there. I quickly checked the Flixbus times and found a bus back to Arnhem for only €11. The downside was that it would depart at 7:30 pm. Oh Well.. Let's make this an 'upside' and take this time to explore Brussels some more!
I made my way to Le Bistro – Porte de Hal for a bite to eat treating myself to a Grimbergen beer and a delicious hamburger, thinking about how I could have missed my flight!
The bistro is located across the road from the 14th-century fortified city gate 'Hallepoort'. The old gate makes for a great view while taking a break from strolling through Brussels.
After passing time with posting photos on Instagram, reading in the book I bought and telling my friends in Arnhem about my shortened vacation I stepped on the bus back home rained on and cold, happy about the fact I would sleep in my own bed that night.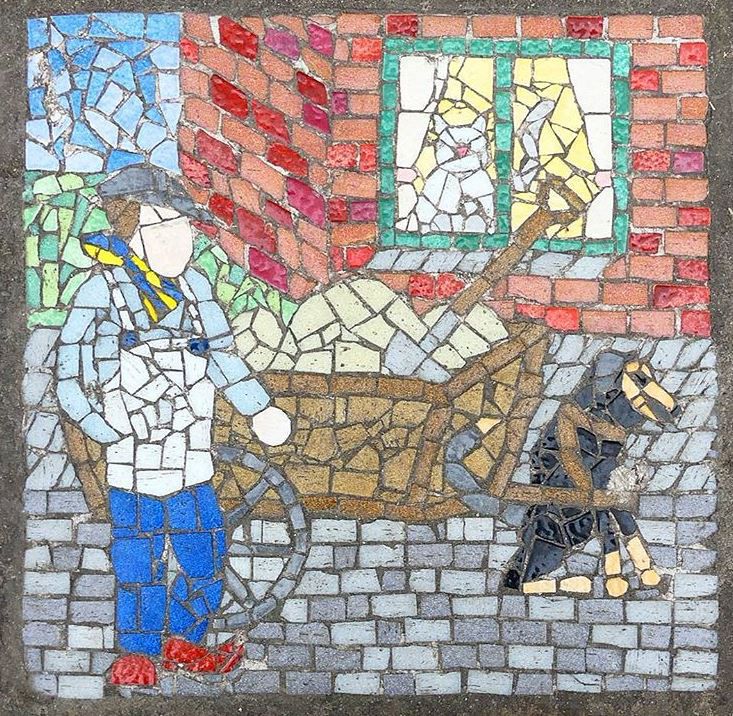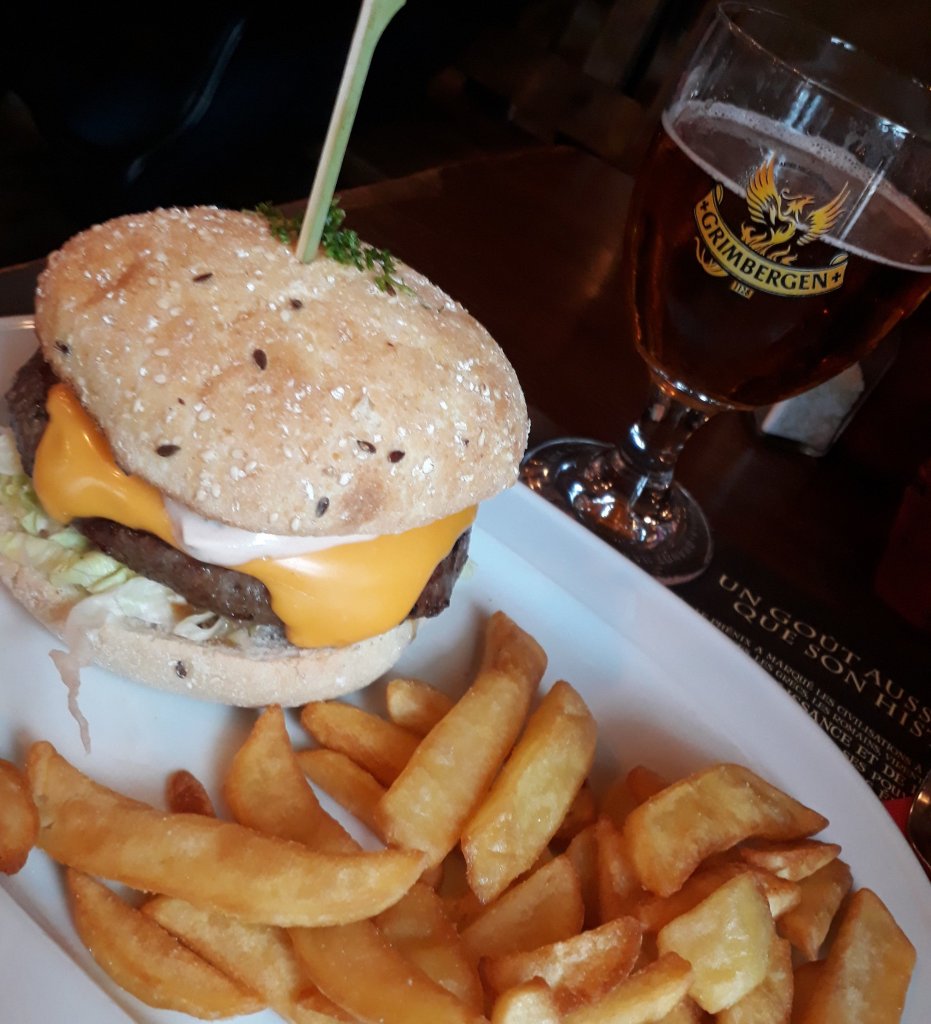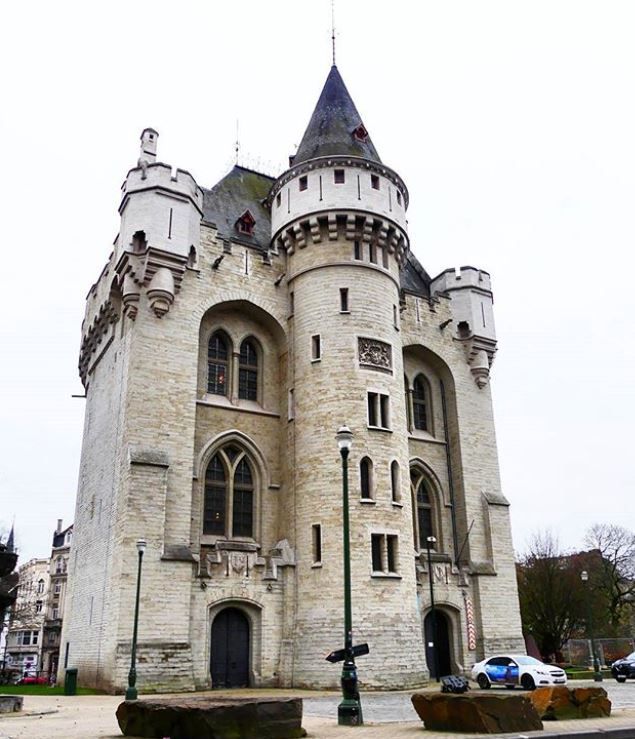 Final Thoughts on Brussels
So, that's how my 9 day Euro trip became a short 3 day stay in Brussels.
I love the fact that Brussels is only a €22 (return, 4 hours one way) Flixbus ride away and that the city is decorated with so many cool murals. If you look closely you'll also spot beautiful mosaic tiles and little-hidden gems on the walls. The food was a big let down but perhaps I didn't look in the right place but I'm willing to give it another go in the future.
I'll scan the internet for another €6 return flight to Timisoara so I can redo my 9 day Euro tour and spend the money that I had already exchanged…
Travel tips for Brussels are welcome, as well as tips for a new city trip in Europe. Please leave your comments in the post about my trip to Brussels on our Facebook page, and share the blog with your friends.
Blog and photo's by Petra Dielman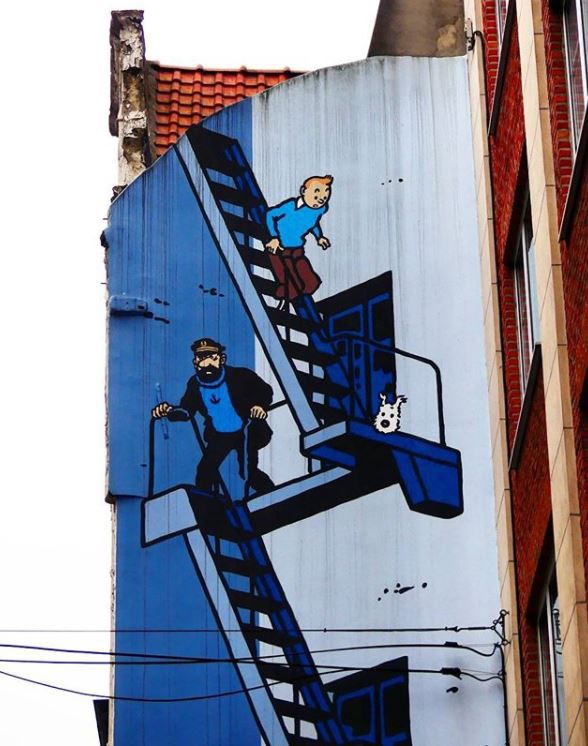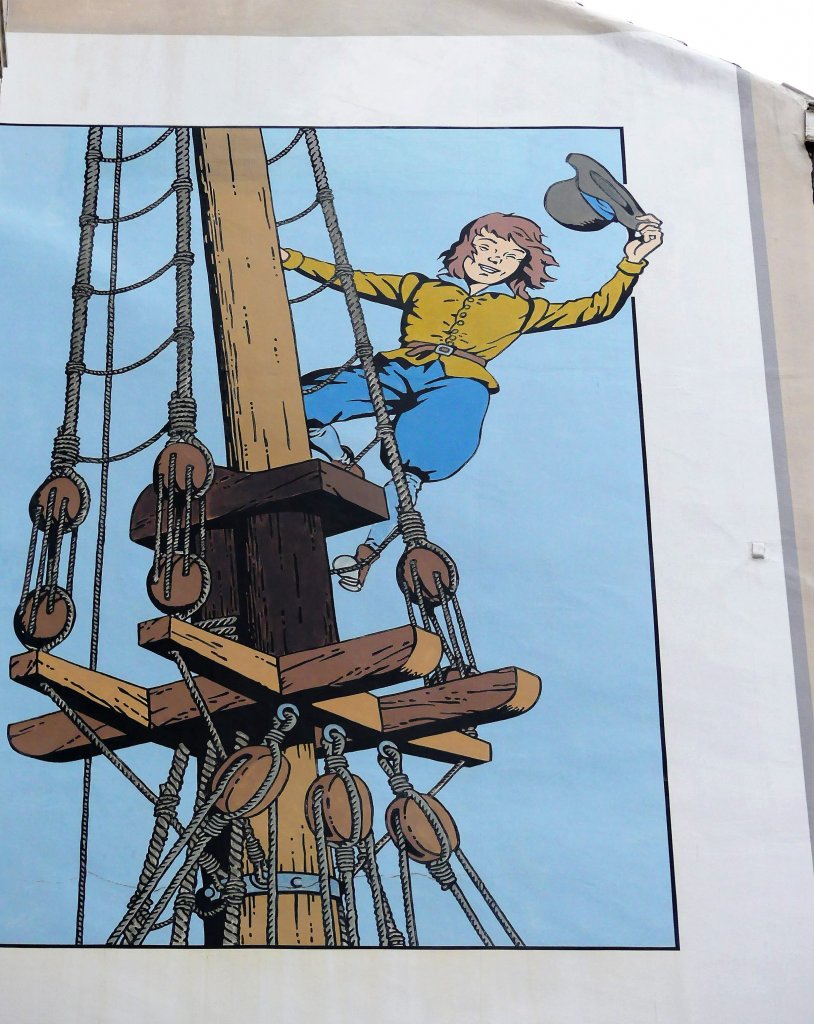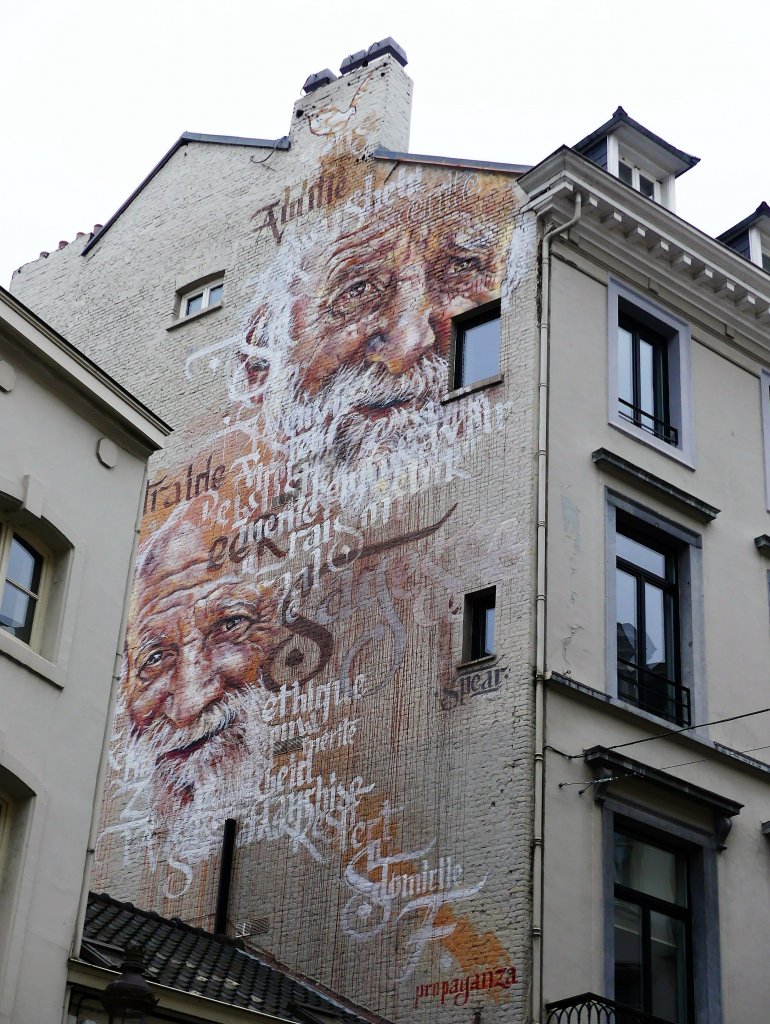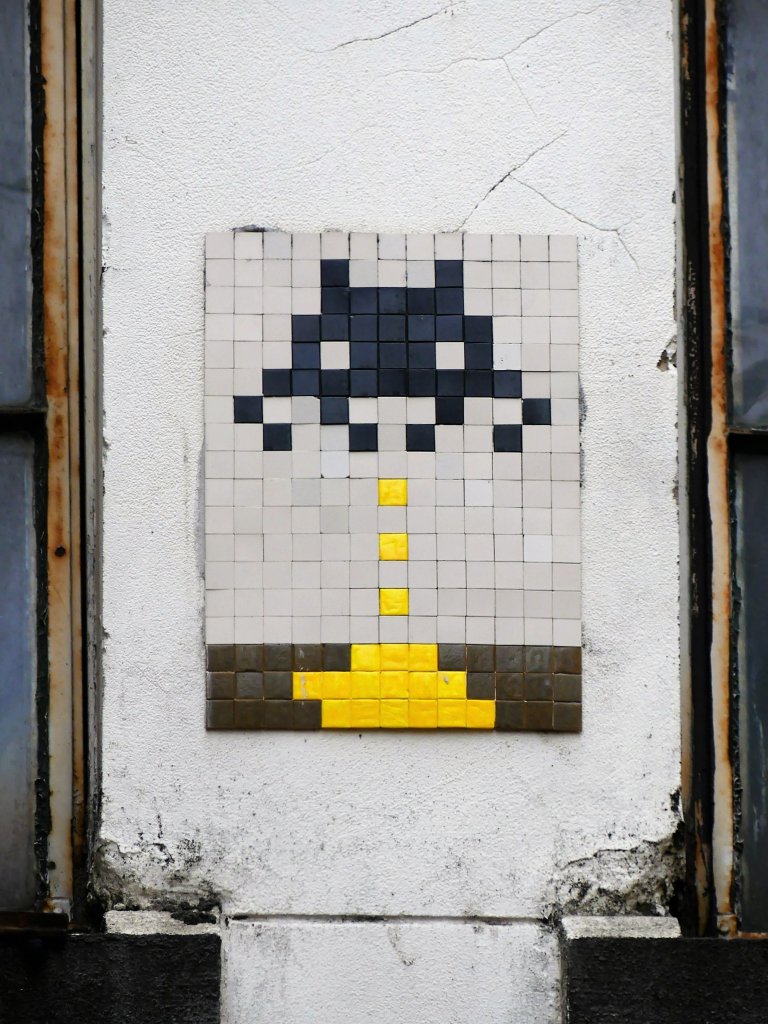 Visit Brussels, but Arnhem as well!
Travelling to Europe soon? Come visit Arnhem in the Netherlands! Book one of our guided city tours and make the most of your stay.
If you plan your holiday in the Netherlands, then Amsterdam needs to be on your list for sure. It has a rich history, beautiful architecture en a lot of friendly people will make your day a happy one!
But… Amsterdam is extremely overflowed with tourists and, thus Dutch people say, that it is not representing the Dutch culture in as a whole. So, in order to really experience the Dutch lifestyle and culture, you should visit another city of the Netherlands as well – what about Arnhem?
The city of Arnhem is a really good tourist destination as well! It is just 1 hour and 10min away from Amsterdam, which makes it an awesome day trip to see more of the Netherlands. Moreover, the city is not overrun by tourists! The city is known for being the green capital of Gelderland with for example the Nationaal Park 'De Hoge Veluwe'. Besides, the city is known for its importance in the Operation Market Garden in WW2, which is shown in the movie 'A bridge too far'. In 2019 there are a lot of special events due to its 75 years of remembering the Battle of Arnhem.
You can easily inform yourself via our tourism blog as well as our history blog.
Check out Arnhem via our Instagram account and don't forget to hit the follow button!
Would you like more travel inspiration? Take a look at our other travel blogs and start planning your next city trip.