Restaurant JANS' in Arnhem
The remodelling of former Mahler, restaurant to the Musis Sacrum concert hall took months but it was well worth the wait. New restaurant JANS' Arnhem recently opened its doors and quickly turned into the newest hot spot in Arnhem.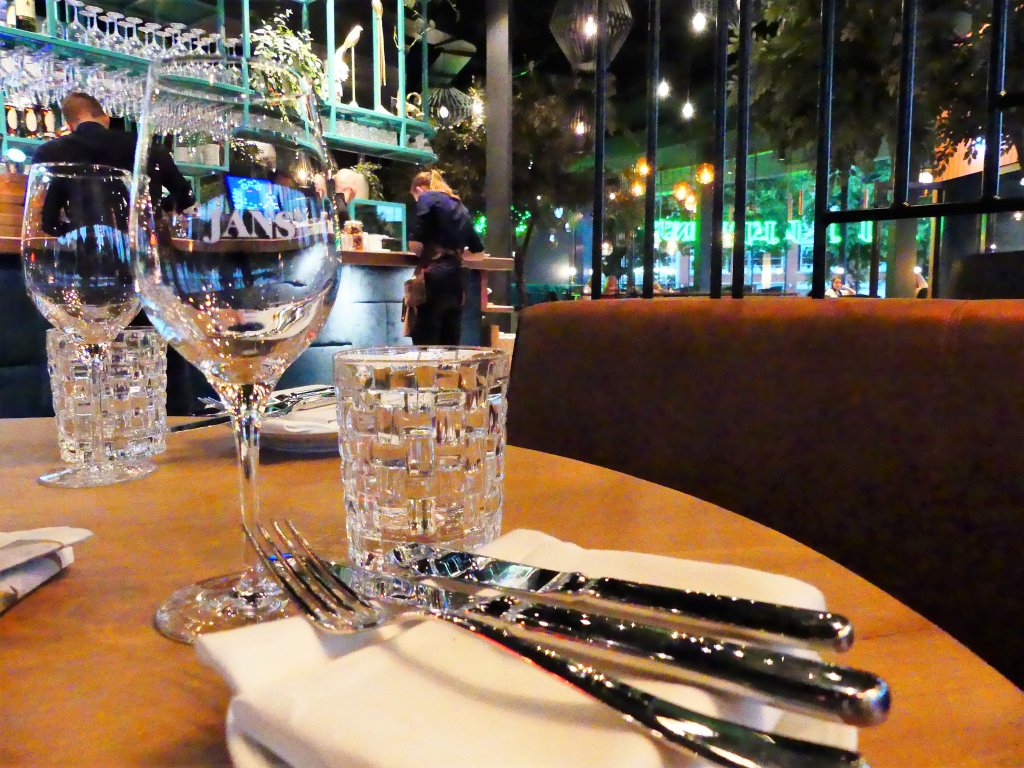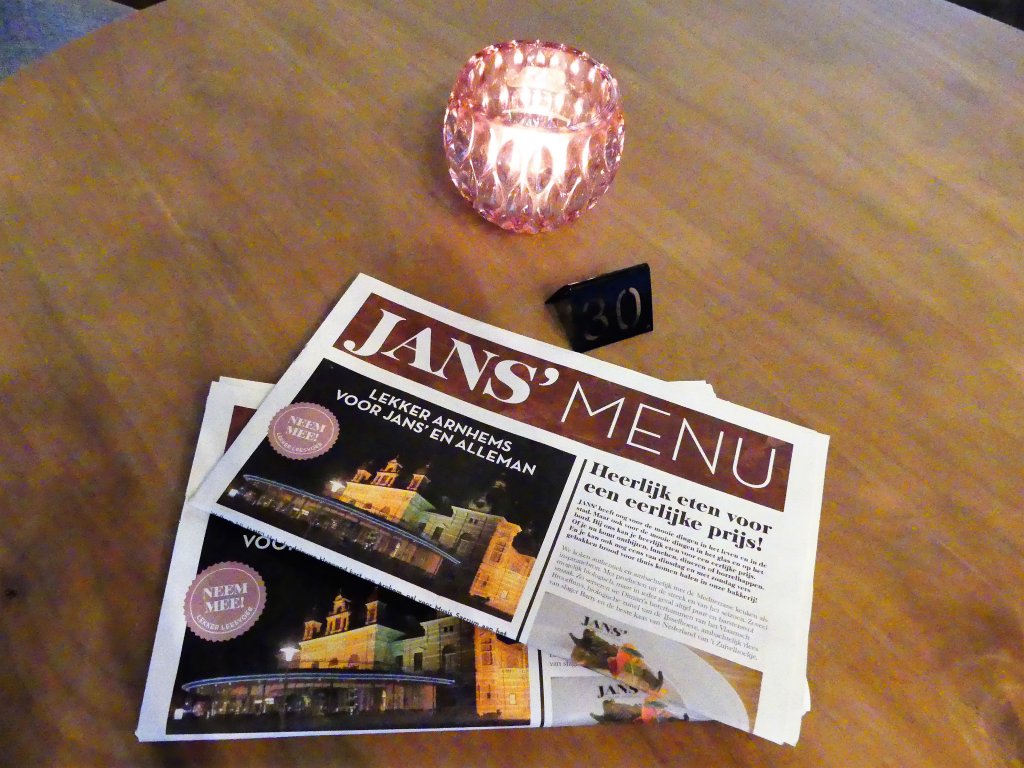 JANS' Arnhem: Modern and Cosy
As we sat down at our table we took in the new interior. Wow, the place looks great! Inviting, cosy but also quite fancy. The many large plants and different floor patterns really make the restaurant come to live.
The menu comes in the form of a paper. The front page gives you information on what Jans' Arnhem is about:
'JANS ' has an eye for the beautiful things in life and in the city. But also for the beautiful things in your glass and on the plate. At JANS' you can eat delicious food for a fair price. Whether you are having breakfast, lunch, dinner or drinks. And you can also get freshly baked bread 'to take home in our bakery from Tuesday to Sunday.'
Drinks And Pré Dinner Snacks
As the super friendly waiter welcomed us at our table and provided us with drinks and a pré dinner snack (crisps and homemade bread with a yummy sauce) he told us what we could expect this evening. A showcase of different tastes and textures that complement each other on a beautiful setup plate. Sounds good to me!
We often review new restaurants and when we do we like to ask the chef to put together some sort of a sample tasting so we get a good idea of what the restaurant had to offer.
This time it was no different. We had still 4 more courses to come…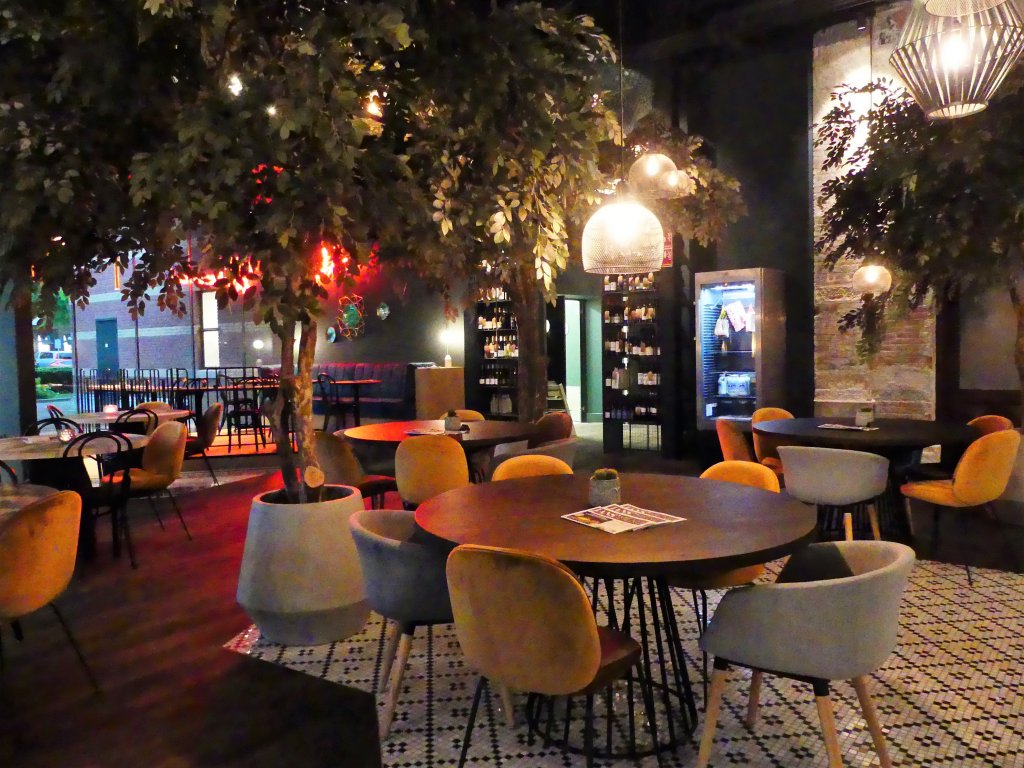 First And Second Starter at JANS'
The first starter was brought and our expectations were instantly pretty high. The organic goose liver, puffed beet and a small brioche were such a treat. I have to admit, I go out to dinner quite a bit but normally the plate of food does not look this nice. This is 'level up' stuff and it made me feel like a fancy lady. 🙂
The second starter was a shrunk down version of a main course, and with 2 more courses to come enough for us. The duck, samosa, mango, pepper and jus combination were equally stunning in presentations as delicious in taste. With duck being one of my favourite things to eat, I can say the one JANS' Arnhem served us was very good. Kinda made me wish the portion was bigger.
We ordered another drink and I chose the 'Mort Surbite', a beer I have not seen in Arnhem before and therefore I was eager to try it. The hazy golden Lambick is sour sweet and complex, definitely a beer I would order again!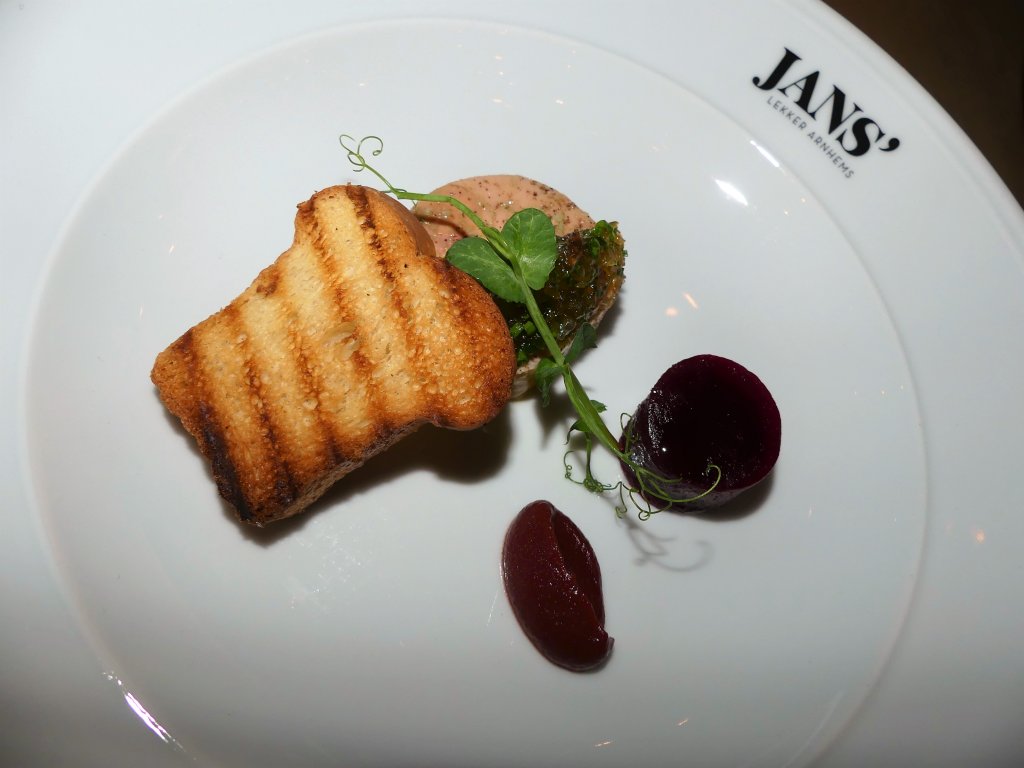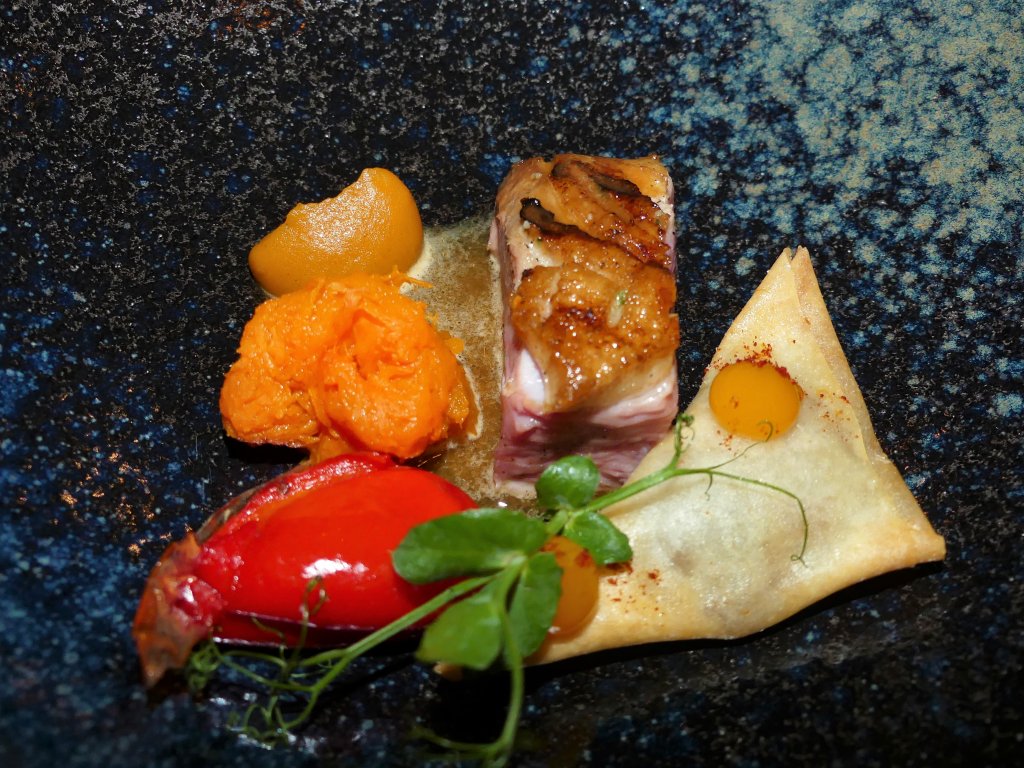 Delicious Codfish Third Course
Next up, course 3, our main course: fish.
Combined with a buttery white chardonnay (De Wetshof Estate Chardonnay Sur Lie, South Africa) the codfish tasted even better. All the dishes at JANS' taste best when you place all the items on the dish together on one spoon/fork. Radishes, artisjok, tomatoes and a buttery sauce accompanied the codfish which worked so well together.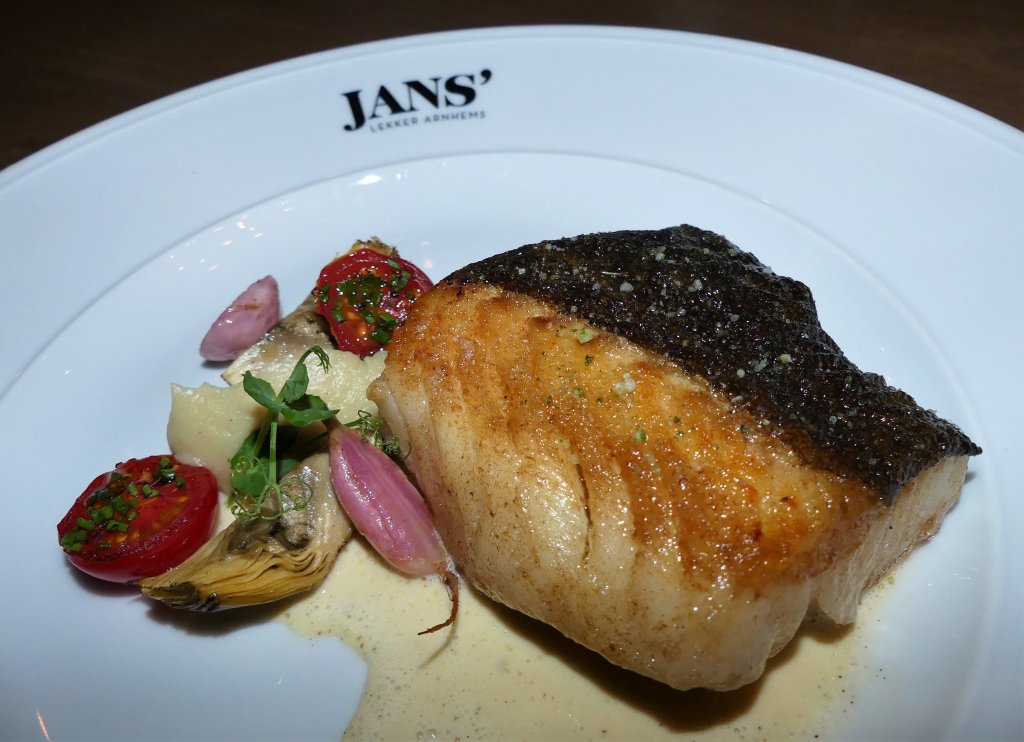 Dessert And Peeze Coffee at JANS'
Last but not least: the dessert. The flavours in this dessert made us frown a little. So diverse and perhaps not what you'd expect in a dessert: Thai curry sorbet with exotic fruits and a basil meringue. It actually worked together, even the basil meringue that we had our doubts about.
We finished our night at JANS' with a Peeze coffee. Coffee roasting company Peeze is Arnhem based and many other restaurants or lunchrooms offer this local brand in Arnhem.
It's up to the barista to make it shine and the one at JANS' sure knows what she's doing.
The latte art (yes that's a thing) shows her coffee making skills and it makes for a perfect ending to a delicious evening at JANS'.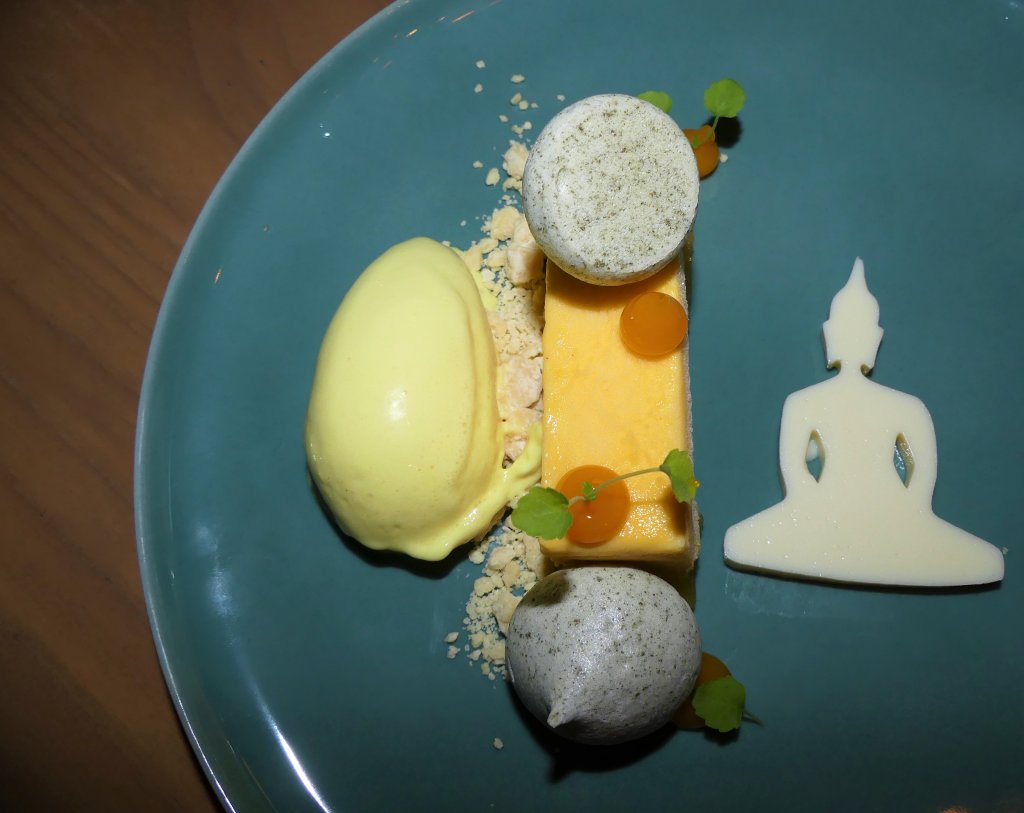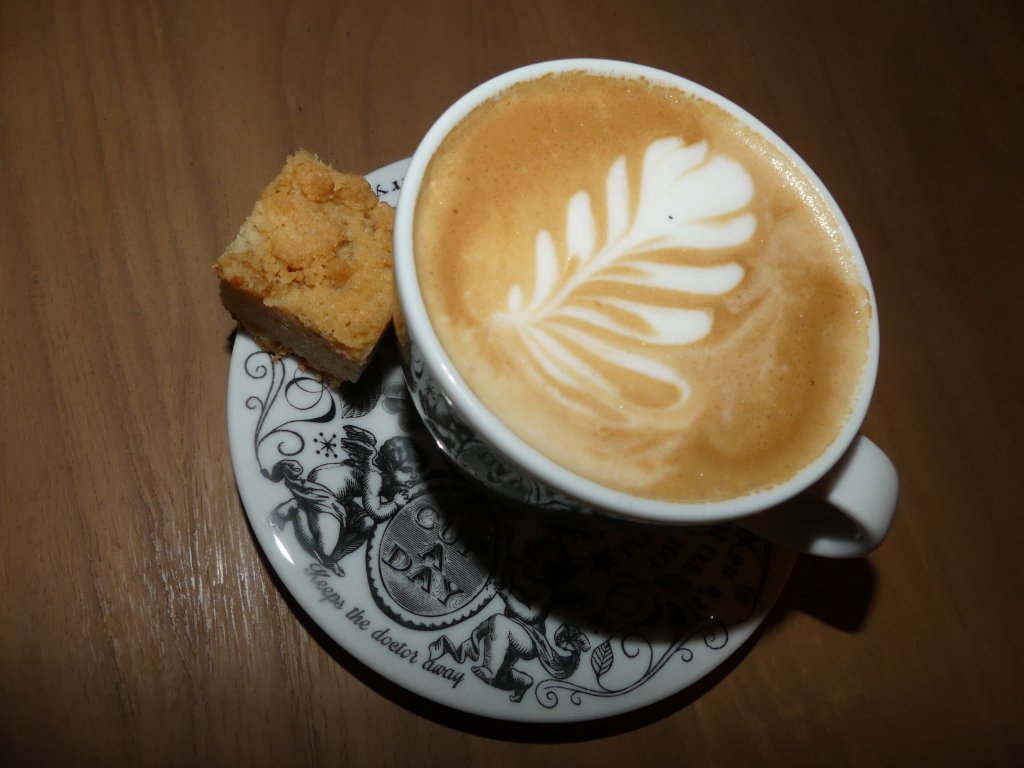 TIP: Combine Food With Theater In Arnhem
Do you ever visit Musis Sacrum or Theater across the road from JANS'? Combine and expand your night out with dinner at JANS'. They offer a 'Theater Menu': choose 2 meals out of a 3 course menu for just €25,-. The menu changes on a monthly base so there is always a good reason to come back and try something new. ;).
JANS'
Opening hours:
Monday closed
Tuesday – Sunday 9am/Midnight
Would you like us to feature your restaurant or bar on our website too? Contact us at info@ArnhemLife.com for details.