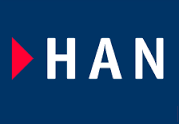 HAN strives to be one of the top universities of applied sciences in the Netherlands. With campuses in both Arnhem and Nijmegen, in the east of the Netherlands, HAN has over 30,000 students.
Domains
HAN University of Applied Sciences offers almost every type of professional course related to the following domains: education, social studies, commerce, communication, business administration, law, economics, engineering, built environment, applied sciences, IT and communication, health, nursing, and sports and exercise. Students can choose from a total of 65 Bachelors and exchange courses and 21 Masters courses.
Check our international courses!
Would you like to study with students from all over the world? Do you want to gain hands-on experience in the work field so that you are well prepared for the job market when you graduate? HAN has a wide range of international Bachelors, Masters and other courses to choose from.
HAN International
HAN University of Applied Sciences is an organization that feels very strongly about internationalization. Read more about this on the Profile pages, where the members of HAN's governing board say a few words. Here you can also learn more about HAN's International Office and its international contacts and projects.
Renowned institutes
HAN has four faculties, which are further divided into numerous institutes. Two of these institutes have put HAN on the map internationally: Arnhem Business School and HAN Automotive Institute. These institutes show the strength of a curriculum that combines practice-oriented components with applied research, a feature that is incorporated into all courses taught at HAN University of Applied Sciences.
Quality
HAN offers high-quality education and an environment in which studying is inspiring, innovative and international. Read about HAN's mission and core values on the Organisation page.
*Content taken from the HAN website*